I am here to tell you that I am currently on the rag. Only it's not exactly a rag. I am, more specifically speaking,
on the
DivaCup
.
I've seen plenty of reviews of
DivaCup
,
Mooncup
(UK based), and
The Keeper
(all reusable menstrual cup options) [ETA: also the
Moon Cup
from the makers of The Keeper and the
Lunette
] from those
who were switching to a cup from pads or tampons
. But I might be somewhat unusual in that
I switched to the DivaCup from a disposable menstrual cup, the
Instead Softcup
.
I bought a DivaCup half a dozen or so cycles ago when I wanted
a more sustainable option for my special monthly time
. (Wait — I'm going for quaint euphemisms
now
? When all the squeamish hightailed it after that opening sentence about being on the rag?)
So, I had been using an Instead Softcup, which is the same basic idea, in the sense that it, too, is a
collection cup
rather than a tampon or pad.
Tampons and pads work, as you probably know by now (and if you don't, hello, little girls, and welcome to your future!), through absorbing the blood flow. Collection cups like the Instead (a disposable brand of cup) and the DivaCup, Moon Cup, and Keeper (other brands of reusable cups) work by
catching the blood flow
, which you then have to empty.
Many years ago, I found that
I greatly preferred the cup method over pads (which gooped me up) or tampons (which dried me out)
. Any of these types of cups fits snugly inside your vagina and catches nearly 100% of the blood flow if inserted correctly (I sometimes have a little spotting leakage on the early heavy flow days, or as I'm withdrawing a full cup, but a pantiliner is generally sufficient to catch any overflow). However, cups
do not
catch your natural vaginal moisture — and this is a very good thing! There's no messiness of blood, but your usual moistness stays at its accustomed level. I always found, with tampons, that first of all, it was hard for me to find the appropriate absorbency that didn't wick blood down the string (the squeamish
did
hightail it, right?), and secondly, toward the end of my period, inserting and withdrawing tampons got downright ouchy as they sucked everything dry.
Another HUGE plus to all cups is that you can get away with
emptying them about once every 12 hours
, so twice a day. I empty mine morning and night, and that's that. Even at my heaviest flow, I haven't breached any yet. I did come close once, but only once!
(By the by, you're not supposed to use anything internal like a cup or tampon during those very heavy flows experienced during miscarriage or postpartum. I personally did end up using an Instead after
many months of miscarriage bleeding
, once the heaviest flow had died down, with no ill effects, but I'm not recommending it, just sayin'. I think postpartum, at least after a vaginal birth, a cup would be very uncomfortable and likely ineffective, given how your lady parts would all be knitting themselves back together and not be able to hold a cup very well.)
Menstrual cups also don't smell funky the way that pads can after several hours. My understanding is that the
blood smells only once it's exposed to air and oxidizes
, so there's nothing to sniff at until you're emptying the cup.
As with tampons, menstrual cups allow you
freedom and flexibility to do your regular non-period routines
, such as exercise and swimming, without worrying about bulky pads showing through your leotard (hey, it's happened to me!) or needing to hold up your dad and brothers on a trip to the beach but being too embarrassed to explain why you were taking so long in the bathroom trying to improvise something else out of toilet paper (hey, it's happened to me!).
For these reasons, I'm a big fan of menstrual cups. However, following are
the reasons I chose Instead and then switched to the DivaCup
.
The Instead Softcup
I don't remember how I first heard about the Instead or decided to try it, but I did worry that it was a little gimmicky and weird. No one I knew used one or had even heard of it, but I was willing to be a pioneer. (I've since discovered that the DivaCup and its sisters were around long before the Instead, but I wasn't quite so crunchy then so we didn't hang in the same circles.)
The Instead is
a disposable cup made of a shallow flexible
polyethylene
plastic bag attached to a firmer but still pliable ring
. You pinch the ring flat and slide the cup up into your vaginal canal, ring side up. The ring suctions around your cervix, catching the flow that comes from your cervix. You don't feel it being all suctiony or anything, and I never had taking it out feel painful. You just hook a finger under the rim of the ring and pull it out, carefully, so as not to spill the contents. If there's any problem with removal, I found bearing down as if pushing out a baby (it was good practice!) helped get it on its way.
The Instead is meant to then
be thrown away and a new one inserted
. Later on, I heard people talk about reusing the Instead cup. It's not what the designer or manufacturer recommends by any means, so proceed at your own risk, but I was, once again, willing to trailblaze. So
I started emptying the blood into the toilet or sink, rinsing mine out with clear water, and then popping it back in in lieu of tossing it in the trash
. I did always throw it away at the end of a cycle, however. I did that for at least a couple years, I'd say, with no noticeable problems, such as infection or cup disintegration over the course of the cycle.
UPDATE 2015: The Instead Softcup people now do make an Evofem Reusable Softcup designed for what I said above: to be worn for an entire cycle and then disposed of. So it's still not AS reusable as a DivaCup or similar, but it's getting closer.
You can have sex with it in! I had to put that first, because it rocks my socks. By "sex" I mean, if you couldn't guess, vaginal intercourse. Because the collection bag hanging down is so flexible and light, it just pushes out of the way, and the ring is snug up high around the cervix, so it doesn't get in the way. Sam and I never had any problems with discomfort or blood spillage. It's non-messy period sex! Seriously, what a treat. Take that, Leviticus (kidding).
It's hard to know once you've been using something a whole long time if it's easy to put in because you're used to it or because it's easy to put in. But I'm going to go ahead and say the Instead Softcup is easy to put in. I don't remember any fiddling with it to find the proper position. I did have to discover which way was most comfortable for me to insert it (sitting on the toilet), but that was pretty easy, because that's also the way it was most comfortable for me to insert tampons (some women prefer standing with one leg bent and that foot resting on the toilet — I think it might depend on how your canal is tipped). The Instead Softcup is also very comfortable and unnoticeable once inserted.
As with all menstrual cup products, you can safely leave the Instead in for up to 12 hours. I do, even during my heavy flow days, and only one time did I come close to filling it. Usually, I'm not anywhere close. I'd say my flow is on the moderate to heavy side, but just kind of guessing there. There's no risk of toxic shock syndrome as with tampons, because it's not absorbing and therefore building up the type of bacteria that tampons can promote.
One size fits all with the Instead cup (as far as my experience goes), though some find it large. It's definitely wider than the DivaCup, but it expands up near your cervix where there's (in my experience, again) plenty of space for it.
All of the pros listed above for all menstrual cups: long wearing time, no smell, little ick, still comfortably moist, cost savings over time, undetectable and flexible.
Here are the cons of the Instead cup:
You can't use that "But I'm having my period, honey," excuse to call off sex. Just joking!
It's disposable and not as environmentally friendly. It's not as wasteful as disposable menstrual pads and tampons, because you use one only every 12 hours, or — if you want to go off-label with it as I did — one per cycle. I didn't personally push it further than that. For one, it seemed to get a little grubby toward the end, and I wasn't sure how to safely clean it other than with water. For another, the polyethylene bag is really so thin I wasn't sure how long it would hold up to repeated use. Now that I know more about BPA and leaching and so forth, I'd want to investigate that further, too, if I were still reusing it. The Instead uses more packaging than the DivaCup or similar since it's disposable; each Instead is wrapped in a little plastic bag (which I always saved to throw it away in), and the wrapped cups are packaged inside a pretty cute little box.
Because it's disposable, it costs more over time than the DivaCup, and it seems expensive compared to other disposable menstrual products as well. Now, again, you're using fewer per cycle, so it's not really, but the upfront outlay of cash is slightly higher, and it's harder to find sales and coupons.
In fact, because it's not as popular as pads and tampons, it's hard to find on the store shelves! As a tip: Try searching up really high.
As with all menstrual cup products, emptying it can be a little messy. I try to hold the menstrual cup (Instead or Diva) really level when withdrawing, then immediately tip and dump the most liquid parts into the toilet. I then do the best I can to slosh any stringy bits (did I mention squeamish people should no longer be reading?) back into the cup as I transfer it to the sink or tub for a quick rinse under cold water. If you're throwing the Instead away, you can catch it in a little toilet paper or the plastic bag it comes in. I figure there's no escaping the ick factor during your period. You either get it every 4-8 hours as with tampons, every time you go to the bathroom as with pads, or concentrated every 12 hours as with a cup. I prefer the last option, but it's up to your squick preference.
The materials are not eco-friendly. The polyethylene in the Instead creates pollution in its production (as per DivaCup but I have no reason to believe they're lying). Polyethylene is the same plastic used to make disposable grocery bags, which do not biodegrade and which we already know are a landfill nightmare.
The DivaCup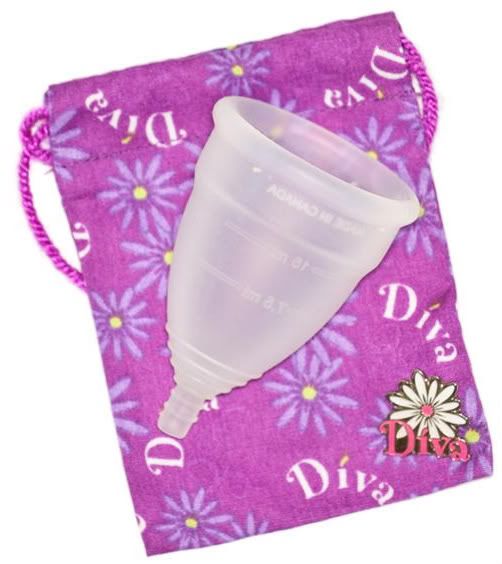 As I said, I ended up switching to the
DivaCup
instead.
The primary reason was how much more environmentally sustainable the DivaCup is than the Instead
, even when reusing the Instead against instructions.
The DivaCup, instead of suctioning up around the cervix,
suctions against the sides of the vaginal canal
(same with The Keeper and Mooncup). You have to flatten it quite a bit to insert it, and then it's supposed to expand internally and catch any blood that flows down from the cervix.
Here is the loveliness of the DivaCup:
First of all, see above for the general pros of all reusable cups, like 12 hours between emptyings, a reduction in the goopiness and stinkiness of blood flow, no wicking of moisture as with tampons, ability to participate freely in activities like swimming and exercise, and cost savings over the long run versus the cost of disposable products.
The biggest plus of the DivaCup for me, and why I started using it in lieu of (almost wrote instead of) the Instead Softcup, is that it's almost unlimitedly reusable, which makes it a much more sustainable option. Technically, even the DivaCup is suggested to be disposed of after a year, as per FDA recommendations and DivaCup's expertise. However, in the real world, most women use theirs for years and years without a hitch. This is one of those "It's up to you" situations.
The material (silicone) and minimal packaging of the DivaCup are much more eco-friendly as well. If you prefer a different material, The Keeper is made of latex gum rubber; however, my understanding is that more people (a small percentage overall) are sensitive to latex than to healthcare-grade silicone, which makes up both the DivaCup and the Mooncup. As far as comparisons to disposable pads and tampons go, the Diva Cup is light years ahead in terms of sustainability and health, since disposable products contain or produce ingredients that can be harmful to the earth and your body such as plastics, adhesives, bleach, and dioxin. In contrast, silicone is BPA-free, phthalate-free, plastic-free, latex-free, and healthcare-grade. I can't find a lot of information about silicone's production or biodegradability, so others can chime in if they like, but what I have found seems generally benign (see especially the Frequently Asked Questions PDF link). The DivaCup and its materials and accessories (such as the DivaWash) are not tested on animals.
Here are the downsides of the DivaCup:
The DivaCup and its reusable sisters all have to be sized to fit based on age and experience of vaginal childbirth, so each brand has one (smaller) size for women who have not given birth vaginally or younger users, and one (larger) size for post-vaginal childbirth or women over 30. (And this is a perfect time for a reminder, ladies: Do your kegels!) If the version you get isn't comfortable or doesn't work properly, perhaps you need the other size. This isn't a huge downside; I bought the post-childbirth model (being over 30 and a vaginal birther gave me two checks on that list!) and had no problems with the fit. But, clearly, there is some risk in shelling out $30 for an item you can't exactly "try on" and then return if it doesn't fit. Read the descriptions carefully, because each brand of reusable cup has its own sizing markers (for instance, Size B of the Mooncup is smaller, but Model 1 of the DivaCup is smaller, so make sure you get the right one for you).
Beyond just the sizing, I found that quite a lot of fiddling was necessary to make the DivaCup comfortable when inserted. Now, again, I could shell out $30 more a pop and try out the competition (The Keeper or Mooncup), but I'm frugal (read: cheap) and was determined to make the DivaCup work. I had to look online for alternate folding techniques with pictures, read on message boards about tips and tricks, learn to trim down the stem, and just generally fiddle around until it finally felt right. It took several cycles to get it down, with one cycle being fine and then the next being uncomfortable, and then back to fine. I've gotten the feel for it now, though, and know some techniques I can use immediately if I start feeling uncomfortable again. But, seriously, I can't emphasize enough that there is a learning curve with this thing, so you have to give it time.
I think why it's so much more complicated than the Instead cup is that instead of sitting right under your cervix, it really has to suction to your vagina on the sides. This means you have to flatten it to get it in there in the first place, then insert it while simultaneously spinning it to encourage it to expand, and then push it around some more until it's comfy. It sounds complicated to explain, and it really is just as complicated to do the first several times, at least (well, for me, anyway!).
When emptying, you have to gently break the suction on the side with a finger so it doesn't hurt to pull it out (if it hurts, stop and break the suction some more!), and then when rinsing, you have to make sure the little holes under the rim are clear or the suction will be affected. The holes tend to get nice and clogged with blood bits, so I sort of fold that part of the cup while rinsing to pop them out. You can also create a vacuum against your palm, I've heard.
If you feel like you constantly have to pee (or have a urinary tract infection) when it's in, it's likely because it's pressing on your urethra and needs to be spun to a different direction.
I also had a problem one cycle where it kept slipping down while I was walking and feeling like it was going to fall out. Try adjusting your internal menstrual cup while walking on a busy path! I still don't know what was going on that time, but I eventually got it back in solidly. It really doesn't sit up all that high even when inserted correctly.
If you feel a pinching or poking from the stem, trim it down. (You're not supposed to use the stem to pull on, anyway, which makes me wonder why it's there in the first place.) I also sanded mine off a bit with an emery board to make sure it wasn't sharp after being cut.
I know this sounds like the DivaCup is a whole heck of a lot of work, and — well, it kinda is at first. I think you just have to commit to it (the $30 helps!) and resolve that you will find a way to be comfortable. I did, and now I can't feel that it's in at all. It still feels fiddlier to me to insert than the Instead did, but I've gotten the hang of it and don't have to overthink it every time now.
The DivaCup is dandy to travel with (it even comes with a cute little drawstring bag that my two-year-old son lurves!), but emptying it is easiest done at home or in an otherwise comfortable environment like your own hotel bathroom, because of the need to rinse it before reinserting. DivaCup does say you can dump the blood as best you can and reinsert without rinsing if necessary, but so far I've just timed my insertions to be when I'm in a private room with clean running water.
Because it's reusable, you're supposed to clean it in between cycles and before storing. Fortunately, washing it is easy. I use just water during my cycle, and then water plus a mild soap after the cycle is over. There's a special DivaWash you can buy that promises to be safe and gentle for the silicone over time, though I haven't bought that. You're not supposed to use anything at all harsh, such as bleach, vinegar, hydrogen peroxide, tea tree oil, putting it in the dishwasher, etc. The only thing you are supposed to do is boil it for twenty minutes. Yup, boil it. With just plain water. I put this in the cons category, but it could go in the neutral or positive since it's relatively easy to care for your cup and doesn't require anything fancy or expensive. I chose cons, just because I personally always have to try to find a clean pot to boil it in and then sigh because there never is one and then wash a pot and then try to remember that I have a cup boiling without letting it boil down or over, and I tend to put it off till right as my next cycle is starting but then have to let it cool off before I can use it. But that's just me.
I think because I don't insert it before the blood flow but after it's started, I have slightly more leakage in the early days with the DivaCup than I did with Instead. It can still be handled by a pantiliner or light pad, but I think the problem is there's already blood in my vagina that comes out past the DivaCup. I'll have to experiment next cycle with really getting it in before the first gush (which means doing the boiling early!). I do appreciate Lunapads' and Arwyn of Raising My Boychick's suggestion of wearing bright red or, in my case, hot pink undies to hide any stains, and I can see just undies working after the first day or so.
You have to remove it if you want to have sexual intercourse. Sigh.


My conclusions: Could you make a hybrid, please?
As you might have guessed,
I love the environmental friendliness of the DivaCup
, enough so that I've switched permanently from the Instead Softcup. But
I really loved the ease of use of the Instead
and — say it with me! —
the fact you could have sex with it in
. (I asked Sam, and that was his favorite aspect, too.)
In my ideal world,
Instead would get its act together and create a reusable, eco-friendly version
(I actually asked them via Twitter and they said they're considering it!), or
DivaCup would reimagine a silicone version based on the Instead design
. I don't know if it's possible. The little bag hanging down in the Instead is very thin, so maybe a silicone version would be too thick to be practical. Then again,
diaphragms
! Aren't diaphragms similar? And you can have sex with them in — that's the whole point! (Again with the sex, I know. One-track mind.) So
I think it's got to be possible to engineer a marvelous combination of the two,
just for me
. And Sam. I would so buy it.
Till then,
I'm sticking with my DivaCup
, now I've got it all nice and figured out.
Stay tuned for another review in this series on reusable menstrual products.
Rachel of Rachel's Ramblings
is bringing us a guest post on cloth menstrual pad options. I really need to get my game on in terms of cloth pads and pantiliners, so I welcome her expertise! (And any product reviews companies want to throw my way, hint,
Lunapads
, cough.)
Disclosure: I was not contacted or compensated by
DivaCup or Instead Softcup for this review.
I purchased these products with my own sweet plastic
and just wanted to offer my views.
Amazon links are affiliate links to help
keep me in reusable cups until menopause.
See my full disclosure policy here.