This post was written for inclusion in Bilingual for Fun's Blogging Carnival on Bilingualism, hosted this month by Mummy Do That!. Check back at Mummy Do That! for the carnival when it posts June 2.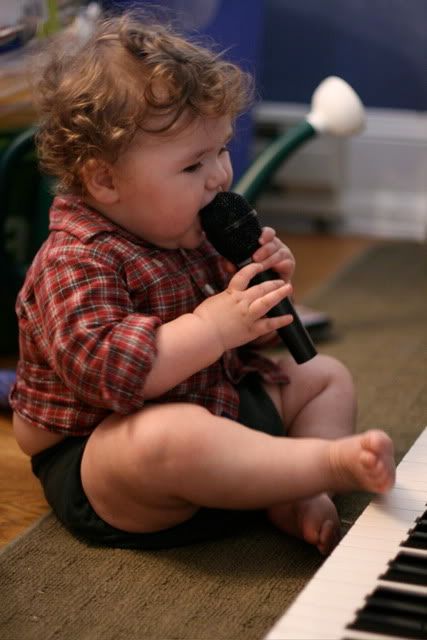 In the spirit of my post on making up your own bilingual children's books —
— I now bring you a
coordinating cheat sheet for bilingual songs
.
By "cheating," I mean you
take a song you already know in one language and translate it on the fly or in advance into your target language
. You can also
consider easy children's songs you already know and look for a counterpart already online in your target language
. I'll give you more on that in a post I've already compiled of free places to find songs in other languages online. (Wait with bated breath till the next bilingual carnival!)
I'm
raising my son bilingually in German and English
, but I'm a
non-native speaker of German
. That means that most of my repertoire of children's songs is in English. I've learned quite a few German songs since starting this adventure, but I can always use more variety.
The
secret to a good make-do bilingual song
is that:
The tune and original words are familiar to you.
It's super-duper easy.
After all, you don't want to pick a cantata for your first go!
As with
my last cheater's guide
, the focus is on
frugal and easy ways you can learn new songs in your target language
. Obviously, you could buy CDs and downloads and learn them that way, but I'm going on the assumption that we're not made of money, dang it. In a
still later post
, I hope to
compile some inexpensive resources
for owning or renting language books, films, and songs. But for this post (and my future non-cheater guide to bilingual songs), I'm going to encourage you to
make your own music
!
Here are some simple songs I thought of. You probably can think of some of your own, which you can
feel free to share in the comments
!
Head, Shoulders, Knees, and Toes
This children's action song has
already been translated into umpteen languages
, so your work is probably done for you. Just do a
Google
search for the title and your target language. The
comments on this Mama Lisa's World Blog post
should get you started, and there's helpfully an mp3 to remind you of the melody.
If you can't find your language online, it's easy enough to
translate the body parts
and figure out something that will fit. Some people will rearrange the lyrics to fit the meter better or switch "toes" to "feet" or similar. I'm fine with this. I'm not a purist when it comes to "Head, Shoulders, Knees, and Toes." Use what works for you and your language!
The best part of this song
is the motions
! Urge your kidlet to stand up and point to each body part as you name it, and you'll be reinforcing your target language through kinetics.
Are You Sleeping?
If you're anything like me, you might have already grown up knowing
"Frère Jacques" in French
, even if you otherwise don't speak French! We were singing it as a round on a car trip once, and my dad (also no Francophone) forgot the line "Sonnez les matines!" and hastily improvised "Someone ate the pizza," finishing it up with a flourish of "Was it you? Was it you?" See, there are no mistakes in language learning. Only opportunities for family jokes to last a lifetime.
Take a gander at
this astonishing list of language versions of "Frère Jacques" from Wikipedia
. If you can't find your target language on that list, let me know so I can be agog.
The bonus fun of this song is that
it can be sung in a round
. The first person or group sings "Are you sleeping? Are you sleeping?" (in whatever language), and when the first group starts the line "Brother John," the second group starts in on "Are you sleeping?" Even just one parent and one kid can successfully sing a round, but it's even more fun in a bigger group. Don't let anyone tell you they can't sing a round. Here are
some hilarious steps at eHow to get everyone's confidence level up
(or ignore their protests).
This might be a good place to point out that
children don't care if you can't sing
. They won't know the difference, so enjoy yourself and the nuance that singing can bring to your language experience!
You can
make this song truly multilingual by having your singers each choose a different language
. This is a good way to include people in your family who don't speak the target language — let them pick a language they're comfortable with. I like to sing the German with Mikko while my husband handles the English (or, if he's feeling particularly saucy, the French!).
Elmo's Song
All right, bear with me here. "Elmo's Song" is one of those
easy, repetitious songs with very few lyrics
that would lend itself to
on-the-go translation
.
The lyrics
are as follows:
This is the song
La la la la
Elmo's song.
La la la la,
La la la la,
Elmo's song.

La la la
La la la la, la
La la la
La la la la, la

He loves to sing,
La la la la,
Elmo's song.
La la la la,
La la la la,
Elmo's song.

He wrote the music.
He wrote the words.
That's Elmo's song.
What do you think? Could you knock that out in another language in a few minutes? I guess dealing with the possessives would be the only challenging part for some tongues, but I have faith in you. Feel free to get creative, and
enjoy all those "la"s
!
The fun part of this song is
personalizing it with the names of everyone you know
in place of "Elmo" on the repeats (with "I love the music, I love the words"). What kids don't love a song about them!
The Gummy Bear Song
You would be surprised at
how many versions there are of this bizarre-o theme song on YouTube
. Very surprised.
There are even more — go take a look if you need a different version!
Along the same theme, you can often find
theme songs to children's shows
(
Sesame Street
,
Spongebob Squarepants
, and even really old-school ones like "Pippi Langstrumpf") translated into your target language on YouTube. It's a treasure trove of mindlessness! You're welcome.
Where Is Thumbkin?
"Where Is Thumbkin?"
is the odd song where the fingers come out from behind your back in order to greet each other and then run away again posthaste. (Are they embarrassed? Anxious? Antisocial? Did they make some terrible faux pas when they said "Very well, I thank you"? Maybe they realized the other finger wasn't a "sir" after all?) I think this would be
another simple song to figure out in each language
, as long as you know or can find out
the names for each finger
. If you scroll down, there's
a suggestion for the German version on Infanaj Kantoj submitted by Sara Tsudome
.
Stay tuned for the Blogging Carnival on Bilingualism and my future post on how to find
authentic
songs online to sing with your kid(s) in whatever language you prefer!
What songs do you like to sing with your children? Have you translated any into a different language? Give me more suggestions of cheater songs if you have 'em!
Hey, speaking of carnivals — did you know the June Carnival of Natural Parenting submissions are due Tuesday night? Yes, this Tuesday night, June 1. This month we're taking it outside … to play! Details here.
Yes, that's Mikko rockin' the mic and keyboard simultaneously
at twelve months. What can I say? We have a prodigy that
would make Mozart poo his pants. Well, ok, yes, technically
he was licking the microphone instead of singing. So what.