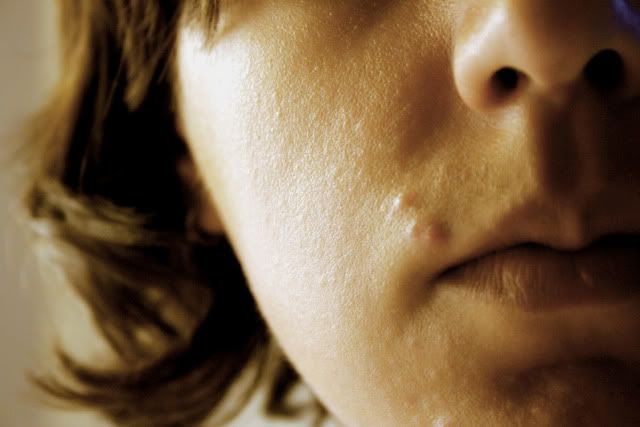 All right, I've been suffering for the last two weeks in silence … and all for science.
I've been trying to use breastmilk
(my own, squirtable white gold)
to combat my adult acne
.
Want some background? Sure, let's delve in.
My skin is pretty much the thing I hate most about me. To be specific, the skin on my face. Yes, the face everyone sees. The one I can't, culturally speaking, get away with hiding. (Come on, why have veils gone out of fashion?) It's kind of (excruciatingly) annoying.
Some people think of acne as a teenage thing. Because, for most men and for some women, it is. Men tend to outgrow acne by their early twenties, but for adult women who suffer from acne,
women's acne is so hormonally based that it continues on
…
sometimes till menopause
. Joy!
I have gone through almost all the systemic and topical treatments for acne that are out there, and then for several years I settled on
the Regimen outlined at Acne.org and explained in this old post of mine
. Basically, it's using
consistent and ample applications of a low-percentage benzoyl peroxide
. I still support that treatment option because (1) it's cheap, (2) it's considered safe, even for pregnant or breastfeeding women (as far as the available research goes), (3) it's easily procured, and (4) it works.
That said, a year or so ago, I came across a
different treatment plan that was supposed to be better for my skin, particularly as I aged
. Seeing as I am, oh so hastily, aging, I decided to give it a go. It worked as well as the benzoyl peroxide — not better, but just as well, and I was hoping it was helping protect my skin a bit from aging. I can't decide whether or not to link to the plan or explain it, just because maybe it will muddy the waters (it's more expensive, harder to obtain, not natural, etc.). You can let me know, though, if you're interested. But in short, it involves an acid exfoliator (BHA) along with a product that encourages the dead skin cells to turn over faster (a retinol).
Whereas benzoyl peroxide works by suffocating the bacteria that cause acne, this other treatment works by unclogging pores and keeping the skin cells regenerating.
Adult acne sufferers, as I understand it, have sluggish skin in that respect.
So, OK, all was well and good until several months ago … I became Elephant Man. To be more precise,
I started looking like a burn victim
. I don't know if it was the winter dryness, my aging (there it is again!) skin, or just a delayed reaction, but suddenly my completely
not
sensitive skin started peeling, flaking, and turning raw and bright red. I backed off the medications slightly in response,
which meant
now
I had raw, red, peeling skin —
and
fresh pimples
. Hooray!
Clearly, I needed to try something else. I was torn.
Did I go back to my old standby, benzoyl peroxide
, which had been waiting so patiently for me shoved in the back of my toiletry stash? What I most hated about benzoyl peroxide was its ability to bleach every piece of fabric within a five-block radius. I put up with it (the splotchy bedclothes, the shirts with rings of white around the collar) when it was all I had, but now I'd been bleach-free for over a year and I really kinda liked it.
I thought I'd take this opportunity, instead, to get funky.
Natural funky
. I first tried the
Oil Cleansing Method
. I could write more about that another day, because I actually do like it for the cleansing, but it wasn't enough to keep me from breaking out. Now that I'd stopped all medicine, the pimples were popping up here and there, so every few days to a week I would try just a
wee
bit of my BHA/retinol treatment to see if I could tolerate it — but, no. Immediately, raw, red, flaking skin, even though it did help hold some of the worst zits at baby.
Then I saw this splashed all over the news:
Long ago, I'd heard about using plain old breastmilk on acne through other bloggers, but it was back in my satisfactory treatment days, and I didn't want to go off something that was working effectively to possibly mess up my skin by, you know, just dabbing breastmilk on it.
But, in many ways, it seemed to make sense.
Breastmilk has lauric acid, which should help exfoliate. It also has antibacterial properties, which should help inoculate the pests causing the acne
. Two birds with one squirt, no?
So, two weeks ago, I'd finally given up on using any of my former harsh medicines but was still torn about going back on the BP, so I thought: Oh, why the heck not?
I'll give this breastmilk-as-acne-treatment thing the old college try!
Now,
the study referenced in the papers
uses a lauric acid-based cream
. Lauric acid is also found in coconut oil. So I'm not clear how much breastmilk has found its way into to the bottled product, and human trials are only just beginning. I can't find much information about it other than the same recycled sound bites that are in every paper.
And I don't, alas, have the gold nanoparticle delivery system (swanky!) mentioned in the study, but
I do have two boobs and (for now) an ample supply of breastmilk
. So I started expressing a little in my palm each morning and night and dab-dab-dabbing it onto my face. I've tried to use a
lot
, in the interests of science. And I've tried to make sure I use it twice a day, approximately twelve hours apart, just like a real topical medicine.
And I committed to trying this treatment out for a
full six weeks
, which in my experience was always cited as
the minimum time for testing if any particular acne treatment worked
.
I resolved to
use my breastmilk regimen faithfully and no matter what happened report back to you
, my readers, as to the results of the experiment.
Only, it's two weeks in, and
I'm wondering if you could spring me early
.
Here are my updates so far. Pretend you're reading my little acne-fighter's journal.
Beginning of Week 1:
Putting the breastmilk on is a little tricky because of how runny it is, but I think I'm putting on ample amounts. I know something's working, because my skin is a little tight and flaky from the acid in the milk. It's not bad enough to really irritate me, though.

I'm enjoying having such an easy face-care routine. I don't have to get out any special tubes or do any prep work. I'm not even washing my face except with water, to make sure I'm not tampering with the results in any way — this should be all about the effects of the breastmilk and only the breastmilk.
End of Week 1:
I am starting to break out. I have about four big pimples on my chin (the worst patch of skin on my face), and my forehead is getting tiny bumps. I can feel more large zits sprouting beneath the surface in various places. My shoulders and chest are breaking out again, too, so I've been patting breastmilk there as well.

I'm finding breastmilk slightly drying on my face. It continues to feel tight after I apply it, making me wonder about the recommendations to use breastmilk on cracked nipples. I know body skin is generally not as sensitive as facial skin, so maybe it's fine. But I should remember to tell women who are experiencing extremely cracked nipples to go with something more moisturizing or moisture-sealing, like lanolin.

I'm wondering if I can commit to this for a full six weeks if my face gets worse. So far, it's manageable with makeup and a healthy sense of I'm-doing-this-for-science-dang-it. But the thing is, no one in real life
knows
I'm doing it for science, and my mother-in-law's visiting and taking lots of pictures. We'll see.
End of Week 2:
Holy zit face, Batman. It's terrible. I'm 34 going on 14, and not in a good way.

I've got five zits on my chin that are demanding their own zip codes and cell phone towers, plus smaller pimples sprawling in the outskirts of the metropolises; I'm sprouting nice red dots on my forehead that my bangs don't hide (stupid, pointless bangs! do your job!); and my forehead and cheeks are all over bumps, giving me a look like textured wallpaper when the light hits from certain angles.

Not only that, but I leaned in close to the mirror (never a good idea, my friends), and discovered that I have so! many! blackheads! I squeezed a few out, just to make myself feel better, but the rest are stubborn and staying put.

I'm thinking about a few things:

I have not outgrown acne, as I keep hoping against hope.
Zits really hurt. My chin is so tender, and matters are not improved any by Mikko's tendency to poke at all the fascinating pus-filled spots.
Makeup can do only so much when 3-D deformities are involved.
We're supposed to take some formal family portraits this week with Grandma. I will definitely be sitting that out.
Breastmilk, as with the oil cleansing method, might work fine on its own for mild to moderate acne sufferers. Clearly my acne is still severe, despite my having kept it tamped down a bit the past several years (leading me, off and on, to the false hope that maybe I'd outgrown it).
I don't know how much more my self-esteem can take.
So I put it to you, my lovely readers.
Would you keep up the trial for the full six weeks
, in case the acne I have right now is residual acne from my previous treatment cessation and not related to the breastmilk at all? (It's possible, but it's not looking good, you know? Literally.) Even if you wouldn't subject
yourself
to such an indignity,
would you like me to continue, in the interests of scientific discovery?
Do you think I should
try to find a different test subject with milder acne
, so we can give this a proper go? (Any volunteers?)
I don't think I can go on without a clamoring of support. But if you want to use your powers of support to tell me to stop already, I can live with that, too.
Please vote in my super-special poll as to whether I should continue, yes or no. I decided to keep the poll simple. You can add nuance in the comments if you like.
Thank you! My beleaguered face and I await your consensus.
Photo courtesy Caitlinator on flickr (cc).
No, my face does not look that good, and no,
I'm not interested in posting a photo to prove it.