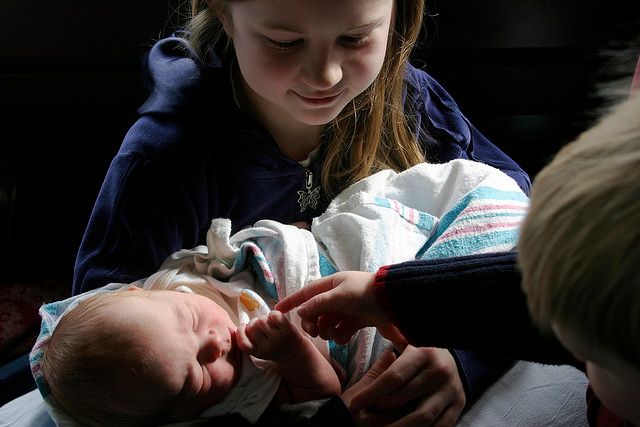 I am happy to have a
guest post today over at PhD in Parenting
on
"Preparing an older sibling for a new birth."
I talk about some of the
aspects of birthing
we've gone over with Mikko, along with
lists of resources that have helped our family prepare
: children's books, helpful DVDs, and online birth videos. If you're adding to your family now or in the future, it's a post I hope you'll consider bookmarking so you can check back for information on the books and videos as you need them.
I cover talking about
pregnancy and conception
, going over the
birthing process
in both humans and other mammals, telling your older children their
own birth stories
, and figuring how to
arrange your birth plan
to include your other children — whether that means having them present or giving them trusted caregivers to take care of them elsewhere.
Mikko has made me numerous signs lately, with cryptically written but pointed messages. "This one say 'Baby stay in,'" he says, pointing to a random scribble. Well, OK, then.

Given his resistance at the whole idea of seeing a birth, we're honoring his requests not to be present. This means setting up a series of childcare and backup plans, starting with family and moving on to those friends who might not mind being woken up in the wee hours of the morning.

If you're having birth in a different location and don't expect to have your other children present, you'll need to arrange childcare, as well as some backup possibilities, at your home or your sitters' home.

If you're having a home birth, as we are, you'll need to talk over with your children (if old enough to have an opinion) whether or not they wish to be present — and then create backup plans that will allow the opposite to happen if they have a change of heart.
Thank you to all the readers and commenters
on
my post on what to do with an older sibling at a birth
for your wisdom in working through our own conundrum! And thank you to the commenters on my post on
big-sibling books
for your further reading suggestions.
And thanks so much to
PhD in Parenting
for suggesting a guest spot! Please
drop on by there today
, and I'll chat with you in the comments over there if you'd like to share the ways you and your family prepared for another birth (or wish to).