Welcome to the Sunday Surf!
Here are some of the
best links I've read
this past week.
In my ongoing quest to
minimize
, I was fed up with my bloated personal email inbox and spent some time (I think it took me a good two hours) purging — 
from over 2,000 unread messages (yup) down to 42
. I thought that was pretty good progress.
It's my personal inbox, but most of the email is, of course, not personal at all but various mailing lists I subscribe to. I figured if I hadn't responded to an email or offer from two years ago that I was unlikely ever to. Pretty perceptive, huh? The businessy ones were deleted; the personal ones archived in case I ever needed to refer to what I hadn't answered…
Another upside I hadn't counted on? My phone can now load my inbox reliably and doesn't crash the Gmail app as much. I had wondered if that was the problem.
Now — on to my Hobo Mama email account. I'm a little warier there, because I feel more obligations to respond, even if it's been awhile.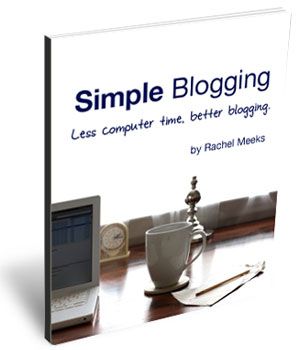 I'm really tempted to download this ebook:
Simple Blogging: Less Computer Time, Better Blogging
from Rachel of
Small Notebook
, if only for the chapter on "how to deal with email guilt and make peace with your inbox." No — really, for all of the book. I'm feeling overwhelmed with bloggy commitments, especially given the baby on the way. Has anyone read the book who can give me a review? (It's $8. I should probably just buy it already and give
you
a review, huh?)
Anyway, on with the links, which are very minimalist this week. Or not. Whatever.
"Blogging Carnival on Bilingualism February 2011" from Verbosity: Great links & blogs here for parents raising kids bilingually/multilingually! My included post is "Bilingual boy: Update at 3.5 years old." I named my draft "Bilingual boy" while I was collecting stories and liked the alliteration so much I didn't bother to update it to "Trilingual Boy" or "Multilingual Boy" when I realized we were throwing Spanish and ASL into the German-English mix. It's amusing me probably beyond what is reasonable that the URL and CommentLuv rendition reads "Update at 35 years old." I'm really looking back!
"Make Your Own Wool Dryer Balls" from Anktangle: I want to make some! (See picture at right.) I've been wanting to stop using dryer sheets, but I'm so, so addicted to soft, lint-free clothes after years of not having a machine dryer. If I make my own wool dryer balls, I can safely experiment with being a wee bit more green, yes?
"Comment to 'Are Home Births Safe?'" from Navelgazing Midwife Blog: Exactly! Midwifery should be licensed & legalized to keep home births safe. This is what I meant in my carnival post on "Top 10 reasons to choose midwifery care" that women should have the choice of safe, competent, legal midwifery. The alternative is that some women who would not have otherwise will feel pressured into hospital birth, and some women who would rather have a midwife present will feel pressured into unassisted homebirth. Much better for everyone to have reasonable midwifery requirements (education, etc.) and licensing in place. (Note: Navelgazing Midwife's comment was on the original article when I looked, so perhaps there was a reinstatement.)
Further reading from the March Carnival of Natural Parenting:
Speaking of which, the March Carnival of Natural Parenting is live with more than 70 Top 10 lists for you to choose from! It was a fabulously varied month and lots of fun. Check out all the links at the end and pick your favorite topics!
From Natural Parents Network:

Our current giveaways! The top one ends today and two more end this week, so hurry.

You can find more shared items during the week at
my public Google Reader recommendations feed
.
Check out
Authentic Parenting
,
Baby Dust Diaries
,
Navelgazing
,
Momma Jorje
,
Enjoy Birth
,
The New Mommy Files
,
A Domesticated Woman's Adventures
(various),
Kelly Hogaboom
(Fridays),
The Parent Vortex
,
Hippie Housewife
(Saturdays),
Multiple Musings
,
Motherhood Moments
,
Mama and Baby Love
, and
A Little Bit of All of It
for more Sunday Surfing! (If you also participate in a regular link list, whether on Sunday or not, let me know and I'll add your link.)
Feel free to add your recommendations in the comments.
Happy reading!