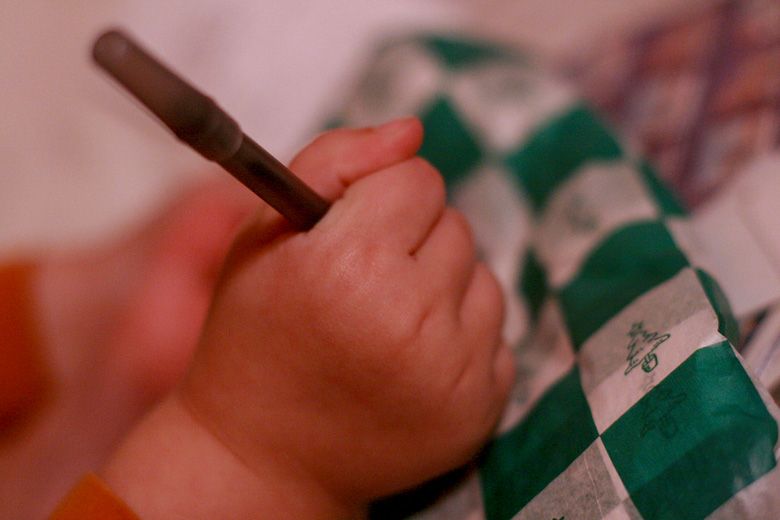 Here are a few parent-friendly Christmas gifts that can be bought or made even now, at the last minute.
Poetry of a Hobo Mama
I have to start with this one, because today is the
last day for FREE Super-Saver Shipping
if you order the book on Amazon.
Poetry of a Hobo Mama
is available
on Amazon
(in various countries). It's also available
for Kindle,
which means you can
download it to your computer or smartphone,
making it an even better last-holiday gift. If you have a bit more time to wait, you can
save 20% off the cover price at CreateSpace
with coupon code
SAP84AYJ
.
Cozy throw blanket
The
easy-sew throw blanket I put together last winter
has been our mainstay of snuggliness all year.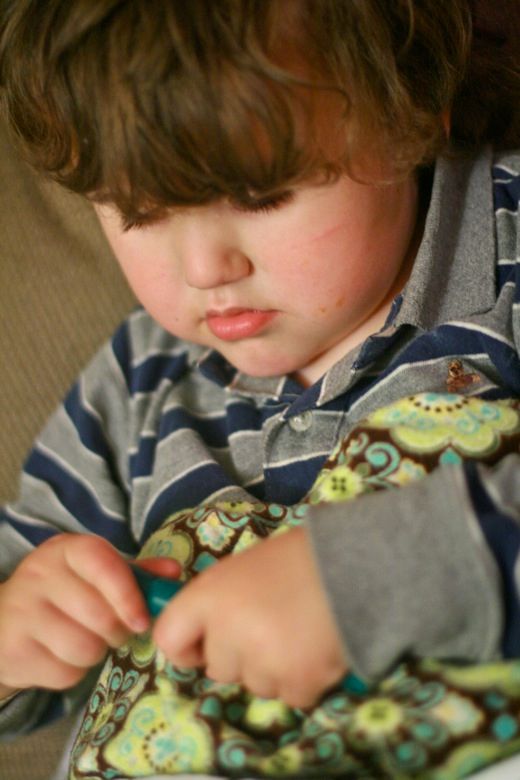 It's the perfect size to throw over the laps of a mama and child. It keeps us warmer than the afghan we had on the couch before. It's also built forts and (above right) traps, Mikko's newest game.
I was hoping to show you my newest project, a quilted carseat size, but it's not done yet and I've officially given myself permission not to finish it by Christmas!
Knotted fabric necklace
I've finally gotten to test out my
knotted fabric bead necklace
with a grabby baby (
huuuge
hit), and I've made a new version with wooden beads to be, more specifically, a
nursing necklace
: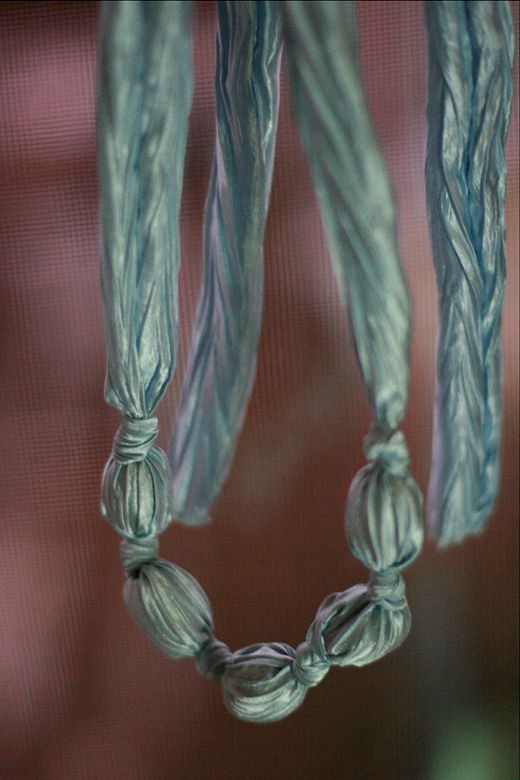 The shiny fabric makes it holiday-festive.
I've also made a couple more non-wooden versions for my mom and mama-in-law, for prettiness:
I was in a children's store today and saw some made from bright calico for little girls. These necklaces are versatile, and
so easy to make quickly
with scraps and supplies you probably already have around!
Wool dryer balls
I've also been making everyone and sundry my
newest laundry obsession
. I hope to post a tutorial soon for my method, but for now have a look at
Anktangle's
. I'm enjoying how pretty mine look — here's hoping they're all felting up nicely. Mikko helped me make one for Grandma: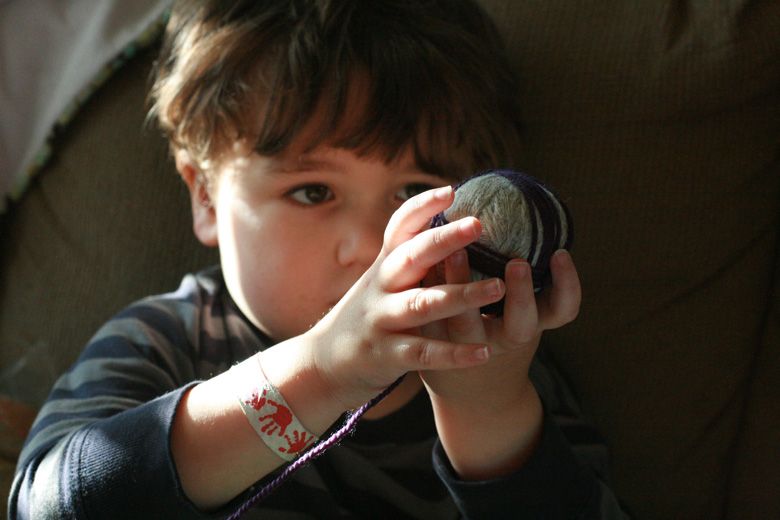 Kid's apron
An apron is a simple-sew project because it is (or can be, anyway) basically just a rectangle of fabric that's folded in a bit at the top, then had ties added. A kid's apron needs very little fabric overall, and you can use whatever fabric fits the intended purpose: a soft cotton for cooking, heavy-duty for woodworking or as a barbecue apron, water-resistant for water play or crafting. I've adapted
this simple tutorial at Needle Book
to make Mikko's. You can make an apron fancier or plainer as you have time and inclination.
Beanbags
You can sew up beanbags for a special little one right quick. All you need is any fabric, preferably something heavy-duty. I used some leftover fleece. You also need the beans. I chose poly pellets (from Michael's), but you can use actual dried beans, rice, lentils, beads, pebbles, etc.
I'll post a tutorial soon, I hope, but you can probably guess the basics: Sew two layers of squares (right sides together) almost all the way, turn right side out, fill with your "beans," then sew up the opening. If you want your beanbags to be prettier, sew a design on one of the squares first.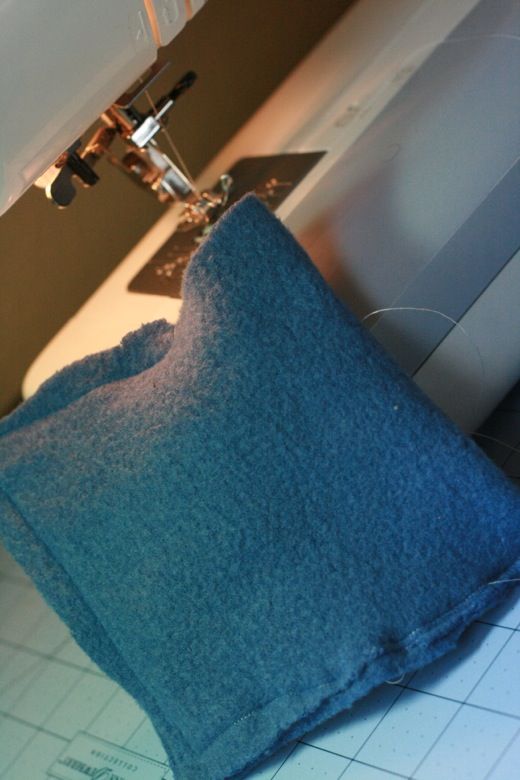 For extra credit, make a target for throwing.
Be very sure about sewing thoroughly, or use an inner bag for the beans for extra certainty. Don't give beanbags to any children under three without constant supervision, in case one bursts unexpectedly.
Activity bags
Kristin had a
great roundup post at Natural Parents Network
— follow the links within to find
tons
of activity bag ideas. Some might be too complicated to fling together at the last minute, for your kids or others, but it's easy once you get into the mindset to find materials you already have around that you could place into baggies for themed activities. These can be a generally appreciated gift for the older children of a mama who's just had a baby!
Flubber
or
play dough
(in an airtight container) + animals or tools = win.
(Kristin's combination)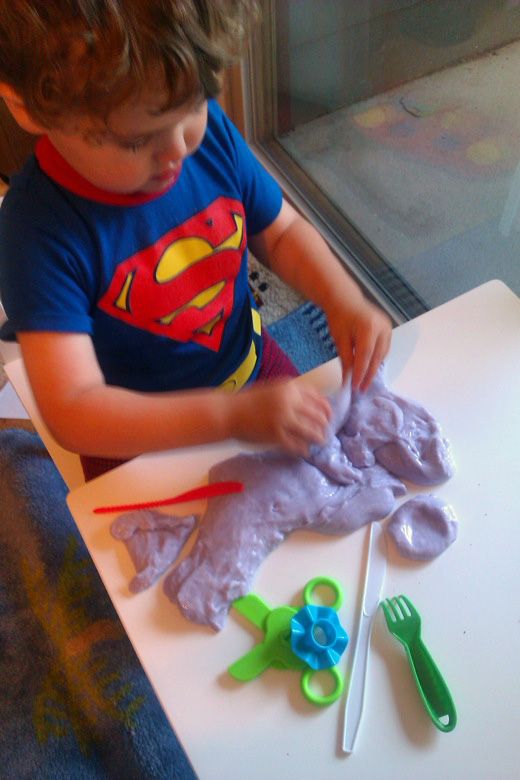 My
hide-and-seek memory game
can be simplified.
Putting little cups or containers plus a variety of colorful objects makes for
sorting activities
: by color, by size, by shape, by kind. Or you can make "cupcakes" with them, as a visiting little friend did when she came across this bag I'd made for Mikko!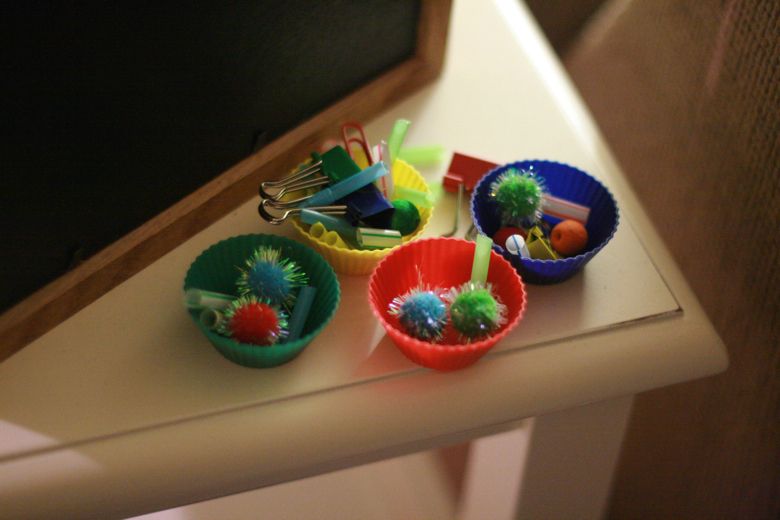 Magnifying glass + small, detailed objects
(coins, shells, beads) = easy and fun lesson in observation.
(Only for children over three.)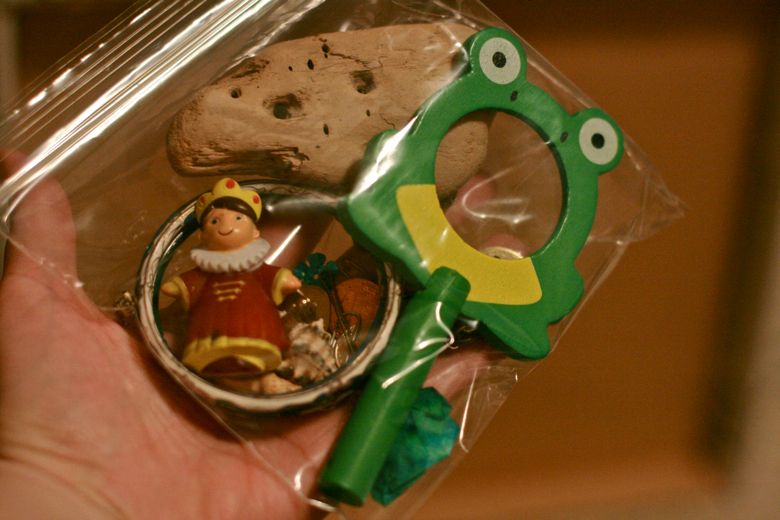 Embroidery hoop + holed shelf liner + yarn + darning needle =
beginner's sewing kit
.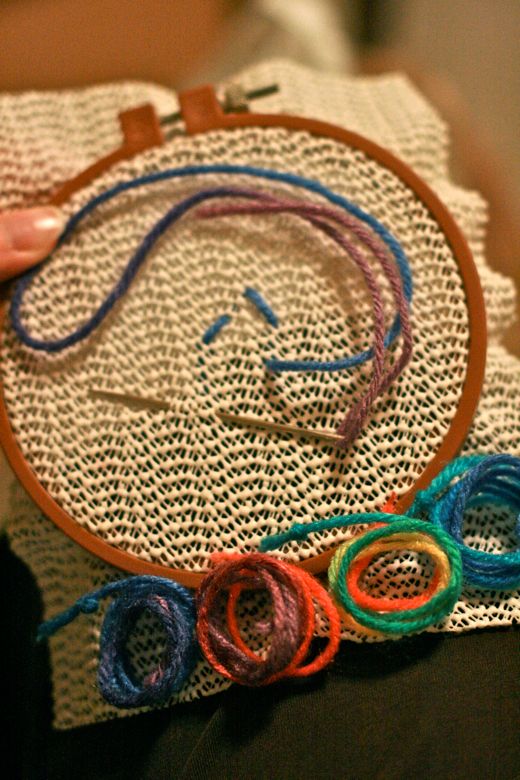 Stickers + crayons + paper =
transportable crafting
.
Serving Pink Lemonade's travel marble game
is an easy sew-up project.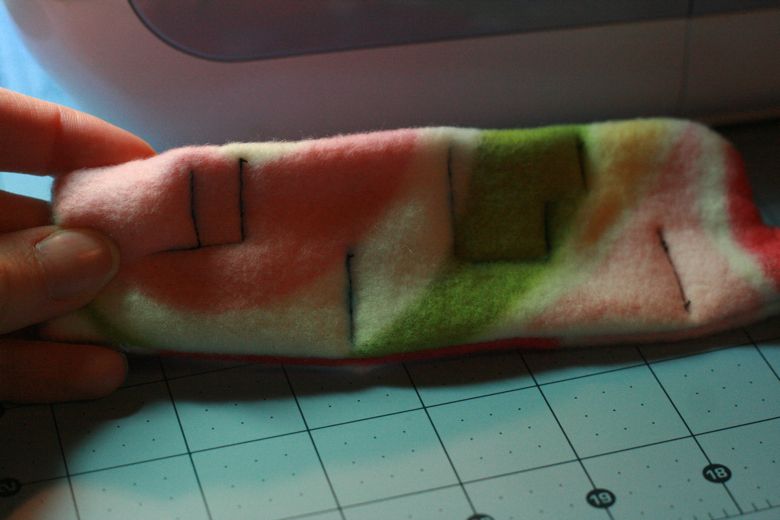 Cutting up colorful straws + yarn =
necklace stringing
.
It just keeps going!
Child-size doll sling
Make your mini-me a
mini mei-tai
. All you need is a bit of fleece if you don't want to have to sew at all.
Easy doll clothes
Sew a simple
halter dress and wrap skirt
for any doll.
nikalee had a great tip in the comments
:
Once when I didn't feel like sewing, we cut holes in and trimmed some decorative socks from the mismatch/holey sock bag. My daughter was three at the time. She's five now and one of those sock "sweater dresses" is still one of her Groovy Girl favorites.
That's my roundup. I hope to get Sam to put together a couple recipes for me this week for some super-duper-last-minute edible holiday gifts!
What are your go-to last-minute holiday gifts? Have you made anything by hand this year?