Don't worry — it's the kind of action you can do while sitting on a couch. My favorite!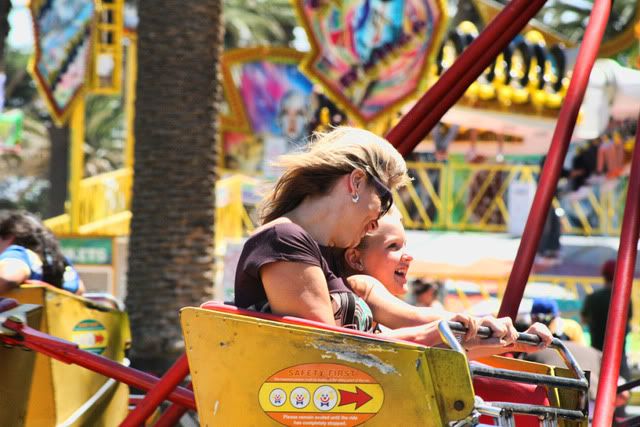 First of all, there are quite a few
parenting carnivals coming up
you might want to contribute to and enjoy reading once they post. You can find a full list with these plus more at Melodie's
"List of Carnivals for Crunchy Mamas" at Breastfeeding Moms Unite!
The February Carnival of Breastfeeding is asking how you overcame a breastfeeding challenge. Email your post to the carnival hosts by Feb. 15 for the carnival on Feb. 22.
There is a blog carnival schedule up at Attachment Parenting International. Submissions for posts on the topic of "Prepare for Pregnancy, Birth, and Parenting" are due Feb. 12 for the carnival on Feb. 19. Follow the instructions for posting on the API blog.
The ninth Carnival of Feminist Parenting will be up next Sunday, Feb. 14, a delightful Valentine's present for you all. If you want to submit to the tenth carnival, get your links in by Mar. 10.
The Green Moms Carnival is going live today on the topic of coal, hosted at Retro Housewife Goes Green. Next month's topic is environmental links to cancer, and if I understand correctly submissions are due Feb. 22 for the carnival on Mar. 1.
The next Blogging Carnival on Bilingualism is slated for Feb. 25 on SpanglishBaby. Get your links in by Feb. 19.
I'm not sure exactly when the Healthy Birth Blog Carnival at Science & Sensibility is going to post, but I believe it's very shortly, so check back at that link. (It's rather like an estimated due date, isn't it? You get a general idea of when to expect the delivery, but no one on the outside gets to decide for sure when all is ready.) My post for it was on limiting vaginal examinations during labor.
And, ahem, tomorrow is the much-anticipated (I dare say so myself, since I'm not the only one doing the anticipating!) February Carnival of Natural Parenting on our experiences with co-parents, to be found right here and lots of other fine places, including my ever-fabulous co-host Code Name: Mama. It is going to rock, my friends. Check back. If you wanted to participate and missed it, submissions are due the first Tuesday of every month for a carnival on the second Tuesday. Full details and upcoming themes are at the Carnival of Natural Parenting page (I figured out how to do pages in Blogger — neato!). Next month's topic is Vintage Green, which sounds intriguing, does it not?
Secondly, I have
two giveaways going on right now at Hobo Mama Reviews
:
So much fun! How can you even stand it?
I was thinking about adding a dozen more links to interesting blog posts I've read recently, but sadly, I have to sleep at some point. So I'll just ask:
Are you
following me on Twitter
?
I often post links to more interesting articles than I can fit into my blog posting schedule. If you like hearing about natural-parenting tidbits from around the internet, plus any intrusive random thoughts I might have at any given moment, please do connect with me there. You can always ignore the random thoughts.