(Updated again at 11:37 p.m. — scroll down!)
There are a few giveaways going on right now that I thought I'd notify you about. Go forth and
win something wonderful
!
(Disclosure: I get an extra entry for telling you about the first, and all three are giveaways I'm excited about!)
• The
Blacktating one-year blogiversary giveaway
ends
today at noon
, so hurry on over and post a comment or tweet or similar! There are seven possible prizes:
The Black Woman's Guide to Breastfeeding
, the only breastfeeding book written specifically for African-American women, by Kathi Barber; a 2-Pack of Organic Velour Flat diapers and pins courtesy of
sustainablebabyishSloomb
; a $50 gift certificate to
One Hot Mama
,
a
MilkBank
breast milk storage system;
The Complete Book of Breastfeeding
, by Sally Wendkos Olds, a classic;
The Wonders of Mother's Milk
, a gorgeous hardcover multicultural children's book about breastfeeding, by Mishawn Purnell O'Neal; or
25 Things Every Nursing Mother Needs to Know
, a compact, beautifully illustrated breastfeeding book.
•
Breastfeeding Moms Unite
is giving away a
Simply Breastfeeding DVD Set
by Shari and Joe Criso. It's the perfect instructional DVD set for a pregnant or new mom who wants to learn all about breastfeeding from the comfort of her home, with any partner's support. You'll be able to see breastfeeding in action up close, something women aren't always able to manage in real life. I love the thought that, for learning purposes, you can stare and stare and not be thought rude! The contest ends June 13.
•
No Time for Flash Cards
, which is a wonderful site that gives creative ideas for children's activities, is giving away
an adorable wooden counting puzzle from Melissa & Doug
. It's got colorful chunky pieces that are perfect for little hands. This contest closes on June 7.
----
(ETA 2:03 p.m.)
I found out about some other juicy ones:
•
Celebrate Life With Bargains!
is hosting a giveaway of a beautiful
Obi Nursing Top
from
A Mother's Boutique
, which is the same store that sponsored
the Skinies cami giveaway
. Enter this giveaway by June 20.
•
Blessed With Full Hands
is giving away a
Sleepy Wrap
Baby Wrap Carrier
, which is a
stretchy wrap
that sounds like it has just enough and not too much stretch to it. Intrigued? I know I am. Enter by June 15.
P.S. Do you like the pictures of hawt babywearing papas? That's why I chose those ones, folks.
----
(ETA 11:37 p.m.)
And I'm so dumb, because I saw this one before and forgot about it. I had even tried a search of my Google Reader for contests and giveaways, but I must have used the wrong search terms. Here 'tis: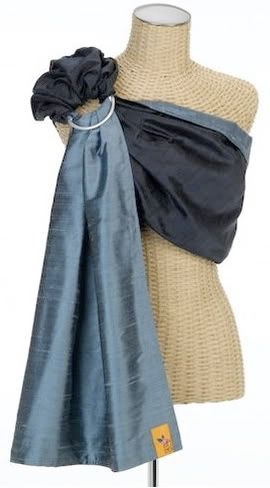 •
PhD in Parenting
is hosting a
one-year blogiversary scavenger hunt
! You can search her blog for the answers to a series of questions for the chance to win one of five fab prizes: a gorgeous
Silk Essential ring sling from Sakura Bloom
; an
Enhance-me magical photo portrait
that would be beautiful for turning a snapshot of your little one into a magical fairy or dinosaur explorer; one of the newfangled, eco-friendly
digital subscriptions to the exceptional

Mothering Magazine
donated by
doudou bebe
; your own pick of
2 yards of funky Pink Panda Fabric
,
perfect for making your own baby sling; and one of two
sets of 5 BioGreen Bottles
, which are fully recycled and biodegradable water bottles. So those are pretty appealing prizes, and I'm always up for a little homework. Plus, it will give you a chance to read a wide breadth of her archives (which, natch, is the point). So get searching, because the scavenger hunt ends June 7.
----
All these giveaways have inspired me to consider hosting my own sometime. It sounds like fun!
Good luck to everyone! If there are any other good giveaways to list, let me know — and let me know if you win something!