This is one of those completely pointless posts, but talking about celebrities in
my latest Sunday Surf
makes me want to share. I've been trying to figure out where I could shoehorn it in, and I'm giving up and letting it stand as it is.
I've gotten a lot of hits on my blog for people searching for
Mayim Bialik
after I wrote a little blurb about
her crunchiness as a mama
and
her appearance on What Not to Wear
. She was recently featured in a
WNTW
"favorite moms" episode, which was a nice little flashback. I still wish they'd done more to show what nursing-friendly clothes are (and shown them in action!), but otherwise I thought the episode was really respectful and Mayim did great.
But, anyway, I was thinking about Mayim because I saw a different episode of
What Not to Wear
featuring
Mindy Cohn
, aka Natalie from
Facts of Life
, and it blew me away. This has nothing to do with parenting or breastfeeding or any of that stuff, since Mindy's a single lady, but I still think her appearance has relevance. Unfortunately, I can't transport you all back in time to when I had the episode Tivo-ed and invite you all to my house. So you're going to have to trust me and a few YouTube clips on this one.
Sometimes the
WNTW
candidates are so down on themselves, but not Mindy. She totally embraced herself, her body size and shape, her age, her personality — and yet she was able to see that none of that self-confidence was reflected in her oversized, dismal wardrobe. Once Stacy and Clinton were able to demonstrate that her wardrobe looked "sad," Mindy was all over the idea of getting rid of it, because that wasn't the image she wanted to project.

Here's a little intro to the episode, showing Mindy's frumpy "before" looks:


Here Mindy discusses the problems with plus-size departments. She talks matter-of-factly (ha! facts!) about how plus sizes aren't well displayed or arranged as aesthetically, and how many items that can be found downstairs in the regular sizes won't be found in this one. She also demonstrates how the fit is different on plus-size clothes, requiring buyers to modify them. Despite this, Mindy goes forth and tries on clothes and finds what she needs, rather than taking this as a direct judgment on her size and self-worth.


Don't watch this next one if you plan to catch the episode on a rerun and don't want the transformation spoiled. She talks about marrying her private and public personas and Clinton tells her she deserves to be "seen" in all aspects of her life. Also, she's fricking cute after her makeover.


I walked away from this episode smiling, because never once, in the whole episode, did Mindy say something negative about herself or blame herself for the way clothes fit or didn't fit her body. I was so inspired to view myself as positively as she does herself. She'd also be a great role model for any young girls (especially) out there who are tempted to start feeling down on themselves based on what society tells us pretty is.
The makeover for Mindy wasn't about making herself worthy. Sometimes
What Not to Wear
can skirt that line of suggesting that people who don't dress well are not as valid as those who do — or that everyone
can
dress well without the $5,000 gift budget (which Mindy declined, by the way; keep in mind what Mindy was saying, too, about how many clothes need to be altered to fit right — which, again, not everyone has the know-how or means to pull off). It always makes me feel cringey, when becoming worthy of respect and love seems to be the motive of either the participant or the people who nominate them. But Mindy's transformation was all about proclaiming to the world that she
knows
she is worthy. And that I can get behind. Go, Mindy!
Did anyone else see this episode? Does anyone else have the Facts of Life theme song stuck in your head now?
Speaking of random, I'm just going to put in a little plug for a friend of mine in the Seattle area who does wardrobe consulting: Closet Fly. Not because she asked me to or knows I'm doing this, but because it sprang to mind. Mayna's described herself as the
nice
version of Clinton and Stacy, and it's true — she's very gentle and complimentary, even while she helps you purge your closet and go shopping in your own personal
What Not to Wear
experience. Mayna gave me a free consultation after my last pregnancy to help me figure out how to fit my new shape, accommodate breastfeeding, and clear out the clothes that were making
me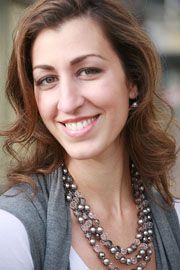 feel sad. She had great ideas for thrifty options to replenish my wardrobe, too. I don't expect most of my readers can afford the services of a professional wardrobe consultant, but feel free to pass her name along to anyone who can — particularly in the New Year, you might hear someone pining for a professional organizer and style guru, and Mayna would be the one to recommend. One option that might be a fun treat for a baby shower or similar mama-themed event is her $350 Girls' Night In-Style Home Party, where every guest gets a mini-consultation, including body type and color analysis, and the fee can be divided among all the attendees. Again, I swear she didn't put me up to this little ad for her. I just think she's great! I've been trying to get her to agree to do a series of blog posts on what to wear to feel great during pregnancy, how to fit the postpartum body, and what tips she has for stylish nursing clothing — let's all band together now and encourage her some more, yes?