Lisa at My World Edenwild asked me a good question about hot-weather babywearing over email because a relative is having a summer birth, and I thought I'd rework my answer into a post here.
Mikko was born in June, so I know about
summer babies but still wanting to wear a ring sling or baby wrap
. Then again, we live in Seattle. It doesn't generally get hot here till July (still waiting…), and even then it's not, you know, Texas. So take these recommendations with whatever size piece of salt you need.
Babywearing in hot weather
First of all, some allaying of fears:
Are you going to get hot if you wear your baby in the summer heat? Well, yes, but you were going to be hot anyway.
Will your baby be overheated next to you? In all but the rarest cases, no, if you're both dressed appropriately (as in, less is more). Women in even the hottest of locations on earth wear their babies, so obviously it's doable.
Will you be more comfortable not wearing your baby? I'm going to suggest no, because you'd be carrying him or her anyway. At least with a sling or wrap, you'll have your hands free to fan yourself and sip an iced tea!
Using the regular-weight wraps you have
I found the
fleece mei tai I made
was fine, because
the amount of fabric touching/encircling the wearer is really limited
, and there's
a lot of air flow through the sides
. I know fleece seems like a counter-intuitive warm-weather choice, but it's not a whole lot of fleece (and you could cut it skinnier as you wish), and it allows for
a no-sew option to make your own mei tai easily
.
I would think
any mei tai
would be similar in
allowing a lot of breezes to reach the baby and not be too binding on the skin
. We used the
ERGO Baby Carrier
, too (seen to the left), which has tons of support, perfect for heavier babies and toddlers. Other good options are the
Beco
,
BabyHawk
,
Kozy
,
Boba
,
and
Freehand
.
As far as wraps go, although we loved our
homemade stretchy wrap
(similar brand-name stretch wraps are the
Moby
and
Sleepy Wrap
,
for comparison), I think
cotton gauze wraps would be lighter than a stretch
and would probably allow more air circulation.
You can
make your own
cotton wrap
by buying cotton gauze at Jo-Ann's or wherever, about 4-5 yards depending on the parent's height and desired wrap carries. Then just hem the non-selvage sides/ends. Look toward the bottom of
this page for "Make a No-Sew Woven Wrap" on WearYourBaby.com
for more info. At the very end, you can even find a no-sew cheater's way to hem the ends with rubber bands so you can wear it right away.
You can obviously
purchase a cotton wrap or sling
, too, or use one you already have. Some popular ones are
Didymos
(wrap),
Maya Wrap
(ring sling),
Storchenwiege
(wrap or ring sling), and
Zolowear
(ring sling).
Going to mesh for ultra-lightweight babywearing
For really, really lightweight, though, if it's sweltering, I've heard that
mesh wraps and slings are ideal
. They can also be worn into the water (bonus!), which is usually what they're sold for (i.e., showers or swimming).
Remember to follow water safety rules
, even with (especially with) your baby strapped to you.
I've never used one, so I don't know how breathable the fabric is if isn't natural, but they clearly have
a lot of air holes
! I've heard good things from hot-weather folk, so it's the way to go if everything else is much too much fabric.
Here are some
commercial options of mesh or other lightweight fabrics for ring slings and wraps
: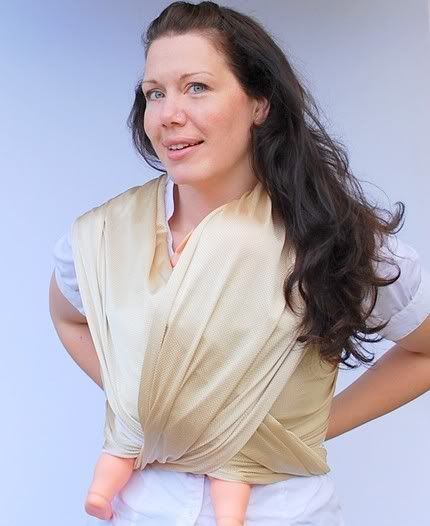 I haven't personally tried any of the above wraps or slings so can't vouch for them. I just think they look fantastic. If you have
any experience
with them, please share!
If you can sew
, it's quite possible
you could find a sling pattern
(e.g.,
Jan Andrea's from Sleeping Baby
)
and some mesh fabric
at the store and give it a go. It would be even easier to
make the mesh fabric into a wrap style
, though I don't know offhand how slippery the mesh is. Be sure any mesh or other lightweight fabric you choose is sturdy and doesn't have too much stretch to it, and if you make a ring sling, you need to order the
special reinforced rings
(I would choose nylon over metal if you expect to wear it into the water).
For
UV protection
, remember that any fabric covering skin is a good start, but fabric alone, particularly mesh fabric, is not going to have a high SPF.
If you want or need sun protection, look for fabrics like Solarweave
. If you're making your own, you could
buy the fabric itself
.
To find
potentially cheaper sources
for mesh and sun-protection slings, try
eBay
and
Etsy
, as well as
secondhand and consignment shops
. Or do the legwork yourself and ask local and online friends in similarly steamy locales for
hand-me-downs
.
Other tips for hot-weather babywearing:
Dress lightly, both of you. Indoors, Mikko lived in a diaper and t-shirt, sometimes without the t-shirt, sometimes without the diaper. I lived in a camisole and shorts, sometimes minus one or the other. We did some absolute skin-to-skin, but sometimes in the heat, that gets too sticky. I found a light layer of clothing between us was usually the best bet for comfort.
If you're breastfeeding, drink a lot of water. Tell anyone helping you out that making sure you always have a cool drink at your side can be a special job to show they care.
Make sure your baby stays hydrated. Let her drink to thirst, whether from the breast or bottle. If she's breastfeeding, your breast milk and your baby's instincts will adapt to the warm temperatures and the slightly more watery foremilk will provide all the liquid needed, so don't ever worry about needing to supplement young nursing babies with water or other drinks (particularly under 6 months, but really at any time with an avid nursling). Formula-fed infants might need additional water if dehydrated, but supplement only under a pediatrician's care, because it can be very dangerous if not done in the proper amounts or with very young babies.
Keep moving, or unwrap as needed. I found that I did most of my wearing while walking, which sort of provided its own breeze. When we sat down, I tended to take Mikko out of the wrap or sling (he wouldn't allow it any other way, actually, because he demanded movement), so I got a break from any trapped heat.
For older babies, a back carry might allow you more air circulation. I know I feel more wrapped up if my front is covered than my back. So it's worthwhile to figure out how to do a back carry and try it out if you and your baby are ready for it. (Some people feel comfortable doing high back carries with newborns, but most prefer to wait till the baby has more head support. I enjoyed front carries up until the distribution of weight up front was uncomfortable for me, at around 30 pounds, and then switched to back carries.) Here's a mei tai version of a back carry; here's a back carry for a ring sling; and here's a rucksack carry for a wrap, which doesn't put as much fabric over your chest in front.
What are your hot-weather tips for wearing a baby? What are your experiences with staying comfortable? Anyone not living in the mild Pacific Northwest is particularly invited to contribute!
Read more about different baby carriers and babywearing, complete with pictorial how-tos, in my Natural Parent's Guide to Babywearing!
Photo of Shimmery Gold Water Baby Mesh Baby Wrap courtesy BabyEtte on Etsy.
The rest are of me being hot. Not like that.
Disclosure: I am not getting paid nearly enough
to promote all these lovely companies.
I got nothing free and no compensation,
and I failed at my usual ability to cram
a gazillion affiliate links into the post.
There still are a few, though, if you look hard.
But I do think these are all fabulous products
and would totally do a proper review sometime if asked.
See my full disclosure policy here.