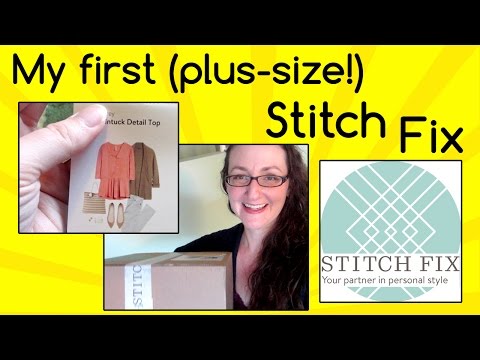 Eek! The Fix awaits! What will FIT?!
Welp, I did it!
I
wrote before about how uncertain I was
about
Stitch Fix
because of their limited sizing: 0-14. I am a 16/18, but
Stitch Fix doesn't (yet) do plus sizes
.
I had a coupon for a free styling fee, so I decided I would be out nothing if I gave it a go. I told my stylist 5 fall tops in XL, please, and then I crossed my fingers and waited.
I posted a little video review & unboxing here, but I will post a written and photographic review below for those of you who prefer not to hear me yammer. Or you can do a little of both.
At any rate,
I NEED YOUR HELP!
I have a scant three days to decide what to keep and what to send back, so
let me know what you think!
Tiny intro for the uninitiated:
Stitch Fix is a subscription clothing service
that sends out five items hand-selected for you by a personal stylist who looks at your style profile, sizing info, Pinterest board, and any special requests. Shipping is free, and the styling fee is $20, which is applied to any items you choose to keep at full retail price. If someone signs up through your referral link (
here's mine!
), you get a $25 credit toward future purchases. (So if you're considering signing up, please do use my link if you can, so I can bring you future reviews!)
I was full of trepidation about this Fix. Would I receive five teensy tops that didn't fit over my giant noggin, much less my full bust and mummy tummy? Would this be a disaster that left me feeling down about my body and my style prospects?
The good news: It was fun!
Everything (more or less) fit!
I know! How exciting!
The tricky news: I can't decide whether to keep anything!
HELP!
Ok, here are the five looks, and you let me know what you think. (You can click on any to embiggen, if such is your desire. Any blurred darkness at my feet is my cat wanting to be tripped over.)
Skies Are Blue: Sial Open Drape Cardigan in Brown, XL, $68
This was Sam's favorite look of the five. I like open cardigans for their versatility and snuggliness and that they look a little more chic than Mr. Rogers-y (though I'll rock that action as well). I like the touches of blue in the weave. That said, the color overall is a bit drab, and the thick knit maybe makes me look bulkier? I'm not sure this sweater is $68 of cardi love. What say you?
Sweet Grey: Loah Pintuck Detail Top in Dark Pink, XL, $78
I really wanted to like this one when I pulled it out, because I love me some pintucks. Plus, the color was the
only
cheery one in the box (and I like color). BUT, the pintucks pulled a little over my bust, the color was a little too coral-pink for my skintone (I think), AND: dude, $78. I have to love it for that much, and I could do better. Maybe in another color?
Market & Spruce: Aleah Heathered V-Neck Dolman Top in Green, XL, $48
This is my favorite of the five at the moment. I didn't think so when I tried it on, but I do now looking at the pictures and video. Which maybe means I'm wrong if I didn't like it as much in real life. But it looks pretty cool, yes? I prefer V-necks on me, and they can be surprisingly hard to find nowadays, so I appreciate that aspect. I didn't think I'd dig the dark green color as much as I did, but it's a nice and warm shade for fall and winter, and the knit fabric is soft and cozy. Plus, it's the cheapest price! Woohoo!
Market & Spruce: Corinna Striped Dolman Top in Blue, XL, $48
This is another one that's grown on me more since I've seen it onscreen. I thought it looked a little boyish initially, but now it's not reading that way. I'm never sure with high boat necks like this if it makes my bust look just too, too broad — thoughts? Plus, this is my mom's favorite type of top to wear, which — well, I guess we can match! It's also on the less expensive end (though more than I'd ever usually spend for a top).
Market & Spruce: Nina Asymmetrical Sweater Tunic in Dark Grey, XL, $68
This would look really cool … on somebody else. I'm going to have to give it a miss. It just makes me look wide and bulky, and the color's doing nothing for me. Again, at $68, I'd better love it, and I don't.
Let me know in the comments whether you think I'm right or wrong on any of the above! Should I keep any? Should I send 'em all packing?
Plus-size ladies, here is a little more news especially for you:
The XL tops I received fit me and my 36I boobs, broad shoulders, and postpartum belly just fine. Some were a little snug on my (very large) arms. I'd call the XLs, at least in the brands I tried on, more of a 14/16 (at least) than a 12/14. I'd guess someone who's a true 14 (whatever that is) would probably be best suited in a L or maybe even lower, depending on boobage. If you think you can swing an XL up above, it could be worth trying Stitch Fix for tops (and loose dresses) only.
My stylist, Alicia, tells me they do carry some size 16 bottoms and dresses. If you think you can rock a 16 down below, it's worth asking for what stock they have available. I'm not sure my hips and waist would play nice with a 16 in most brands, but I might try sometime.
If you're on the plus-size bubble, it's worth being honest with your stylist and telling her what you want: XLs, size 16s if possible, loose and flowy or whatever. You're the client. Being upfront about my sizing and fit needs worked for me. The style profile won't let you fill out that you're any bigger than a 14, so you'll have to exclude any categories that just won't work at all (e.g., bottoms & dresses for me) and then leave such comments in the fill-in box.
If you're above a 14/16, I feel your pain. I think it's a shame Stitch Fix doesn't yet carry larger sizes, and I really, really, really hope posts like this might give them the kick in the butt they need to start! Let's all raise our voices and let them know we'd be willing to use their service if they'd — you know — carry our dang size!
At any rate, this was fun to do! Let me know if you think it's fun, too, and if you'd like me to try this again in the future. You can
get your own Stitch Fix here
.
Whee! Clothes!