Welcome to the Sunday Surf, a tour of the
best blogposts I've read
throughout the week.
After an unusual run of warm, sunny weather (see above), which we enjoyed as thoroughly as we could (see above also), it's finally turned to fall here in the Pacific Northwest.
That means hot-chocolate weather, wool coats and fleece jackets, a wealth of homeschooling activities (did I love my "chaperone" sticker for taking my kids to the zoo? yes, I surely did), and my kids picking up pretty much every leaf they see. (Why? Why not, I suppose. We have quite the fall collection now.)
So settle into someplace cozy and enjoy some links to read!
Carnival news:
Exciting news!
Introducing the parenting blog carnival calendar: Keep track of upcoming writing opportunities!
As a writer, you no longer have to memorize due dates for the blogging carnivals you love. Notifications will come right to your Google Calendar and inbox!
As a carnival host, you can snag more participants and keep them apprised of due dates and themes!
Check out upcoming carnivals in the calendar below
, and click the "plus" button at the bottom to add it to your Google account.
To add carnivals to the calendar
, see the
static page
with an email form that takes you step by step through submitting your carnival information. Any carnivals on topics of interest to natural parenting bloggers are welcome.
Our
October Carnival of Natural Parenting
was inspiring, to say the least — our writers told us how they help to heal their own self-image issues so they can
nurture their children's self-image
.
October Carnival of Natural Parenting: Raising boys with bodily integrity
Click over and enjoy a link (at the bottom) you haven't read yet!
From Natural Parents Network:
I'd like to highlight something awesome happening at Natural Parents Network this holiday season!
We know that many of our Natural Parents Network readers are busy making handmade gifts for friends and family, while others are still in search of that perfect gift idea. …

We want to showcase your hard work and ideas while inspiring others.

The week of November 5-9, we will be posting tutorials, patterns, recipes, and more submitted by our talented readers.

This is your chance to share what you are making while receiving some link love. Have an item you'd like to give away? There are also opportunities to promote your handmade giveaways.
Post your tutorials or giveaways on your blog by October 26!
(New
and old
tutorials count.) Then see the
above post
for submission forms to get that link love and give others the gift of your homemade gift ideas!
Deals:
Awesome Christmas present alert!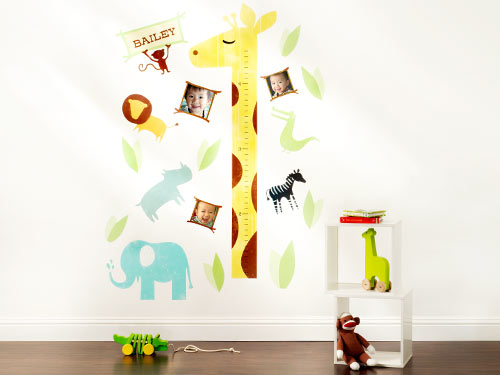 What kid wouldn't love this
personalized growth chart decal at Shutterfly?
And what kids' room wouldn't look better with it attached to the wall with your favorite little faces beside the numbers! The decals are
20% off until October 18
!
If you're a new customer with Shutterfly, you can
get 50 free prints
besides! Perfect for sharing those holiday memories with loved ones. Or use them to make a photo album for your kiddos of all their near and distant relatives and friends so they can connect with those dear faces throughout the year.
Need a cute costume for Halloween festivities?
Melissa & Doug has costumes for 40% off
with code COSTUME15. We have a firefighter M&D costume that's super cute and comfortable for Mikko to wear trick-or-treating or just when he's in the mood to be a firefighter!
25% off on all boots at Robeez.com!
Use code FALLBOOTS at checkout. Through Oct. 15.
Holiday clothing alert!
Tea Collection
is offering
new markdown items at up to 25% off
! Stock up on comfortable and durable clothes for the holidays. Offer is valid only while supplies last.
Halloween costume contest at BabyLegs!
Submit your photos of costumes including BabyLegs by October 26 to enter to win fabulous BabyLegs prizes.
Giveaways:
I'd love to gift you a copy of
Poetry of a Hobo Mama
. Enter my 5-year blogiversary giveaway with 5 winners!
5-year blogiversary & FREE copies of Poetry of a Hobo Mama!
Find lots more wonderful giveaways at my
Natural parenting giveaways linky
! You can win
Ergobaby carriers, a teething necklace, cloth diapers, wool felt
, and more! Some end
SOON
. Add your own giveaways, and enter to win!
Surf with us:
We love following along with fellow Sunday Surfers. If you have your own post of reading links to share, please link up your post on
Hobo Mama
or on
Authentic Parenting
. The linky will go live every Sunday, and you can link up any day that week. If Sunday doesn't work for you but you do a links list another day, feel free to play along. You only need to
add your post to one of the sites
, and the linky will automatically show up on both sites.
You can get the
Sunday Surf button
by
Jenna Designs
and some code to add to your post from my
Sunday Surf page
.
Check out
previous editions
for good reading, and you can find more shared items during the week at
my Tumblr blog, Hobo Mama's Shared Items
.
---
This linky list is now closed.
Disclosure: Deal links are affiliate links.
I try to seek out only products I think you would find
relevant and useful to your life as a natural parent.
See my full disclosure policy here.