One of the most important ideas I took away from
reading The Continuum Concept,
by Jean Liedloff, is that children are socially cooperative animals.
I've written about this before when an 11-month-old Mikko helped me brush the cat
to illustrate that children's (and adults') tendency is to imitate the group they find themselves a part of so that they can fit in. I included
in that previous article
several quotes from
The Continuum Concept
about how children naturally become like their elders without any coercive measures necessary, which goes against the way our culture tells us that children are innately antisocial and must be brought in line with what is expected of them.
As I've been exploring this theory in my now two years of observing my child, I've come to realize that it's not the child's behavior that's so different in a continuum vs. non-continuum household; it's all about perspective. My particular child is simply behaving in a developmentally appropriate way, not doing anything special. But where some elders would see inconvenience and stubbornness and brattiness when toddlers insist on doing something for themselves, I've been able to glimpse an innate determination in my son to become more like the people around him. Two-year-olds, with all of their newfound abilities, offer some of the best opportunities to witness the concept of innate sociality in action. Here are my current experiences. Feel free to share yours in the comments!
1. Mikko has started a new and hilarious trick of parroting back anything we say, with hand gestures and intonations, but with only scattered vocabulary. So, if we had said, say, "We'd better call Grandma before we leave," it will sound something like this: "Raa maa blu vrr Grandma frr raa maa." Only with astonishing animation, and a big grin, and emphatic hand motions. If he were a teenager, I'd call it sarcastic. Since it's obviously not, I'm going to have to reevaluate my prejudices against teens as well...
2. Mikko says "uh oh" whenever something falls to the ground, whether or not he intentionally made it so. A book falling off the table gets "uh oh," but so does a tower of blocks he gleefully crashes into, and so does a toy he throws in pique when he's not getting his way over something. That last one is usually funny enough to keep me out of my own fit of pique during his mini-tantrums.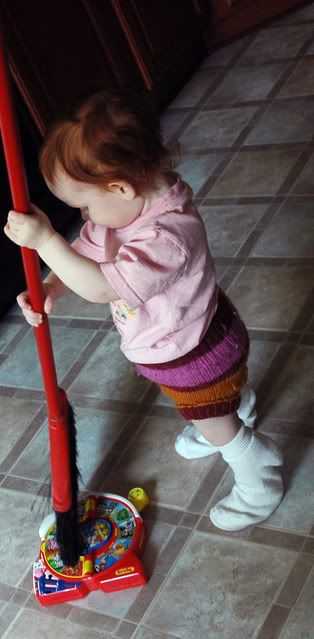 3. Mikko loves to help clean, as long as it doesn't interfere with what he's doing. I can't tidy up a box of blocks, say, without his wanting to start playing with the blocks, but he'll do other things to help out. He loves pushing a broom around or flitting with the feather duster. He lives to put things in the trash, no matter if we're at home or out. He even knows that if the trash comes on a tray, that you're supposed to put the tray up above the trash can. (What? We meet friends in a mall food court a lot...) Yesterday he spilled some water and rushed away from it, looking as if he wanted to leave it for his dad to clean up. Nope. Mikko was rushing to grab a pair of his discarded underpants, which he apparently considered an eco-friendly and convenient option for mopping up water spills. He was right.
4. Mikko and the cat, Mrs. Pim, have a contentious relationship, with all the contention being on her side. Mikko would love to be friends, but Mrs. Pim is (rightly) wary. That doesn't stop Mikko from trying to win her over. He loves to give her her kibble twice a day, which we just kind of pile on the floor or put in a
fun little food ball
— but then we always lose the food ball because Mrs. Pim bats it into a closet or under a chair, so back on the floor the kibble ends up going for a week until we find the food ball again. Anyway, Mikko loves to scoop his little handfuls of her food out of the big bin we keep it in and toss it haphazardly all over the hardwood floors, where it scatters into corners and sticks to bare feet. It's not the most convenient way to feed a cat, but it makes him happy. The other day Mrs. Pim was hungry enough to actually come running when it was time for Mikko to dole out her rations. She stopped a few feet beyond us and turned her back, playing it cool. Mikko grabbed a handful and ran toward her. I ineffectually tried to convince him to leave her alone, since I wasn't sure what new torture he had dreamed up for her. (He really likes to point out that she has eyes, for instance, which she is not so fond of.) But she stayed put, and he stayed on course, and I was so glad to see what transpired. He carefully placed his handful down right in front of her nose and then backed away to get more. And, miracle of miracles, Mrs. Pim began eating! Even when he came back with more, she didn't shy away. I loved that he was basically hand-feeding her, with more care than even we take.
5. When it comes to his own food, Mikko will not eat anything alone. He must share. And even when it comes to nursing, if he's holding a doll, he'll let the new baby have a taste of nummies first before he claims his turn. We were meeting the aforementioned friends at the food court, and everyone was eating fries with "dip" (ketchup), Mikko's requirement for every meal now. (It doesn't always have to be ketchup — just some sort of dippable sauce.) Mikko settled in on one friend's lap and picked up a nice long fry, dipped it, and offered her a bite behind him. Then he took a bite. Then he offered it to the other friend. The first friend laughingly warned her off from being the third to share a single fry, but it was beautiful to see the natural generosity at work in a little child (and, incidentally, a
lovely example of allomothering
).
6. I bought a couple skirts and dresses lately in an attempt to be cool (literally — for the summer, I mean!). I found to my dismay that I could therefore not stash my wallet and keys and lip gloss in my pockets, because there were none. Fine, I sighed, digging through the closet till I found a purse from high school, the last time I regularly carried one. Naturally, my purse is Mikko's new toy. Giving him his own purse doesn't work, because he wants the one I'm using. Case in point, right now my purse is holding a toy horse, but my wallet and phone have been dumped and scattered. But an unexpectedly favorite item within is my glasses wipe from Costco — a little microfiber cloth in a plastic pouch. Mikko is fascinated with Sam's and my glasses. I try to reassure him that there is
no earthly way
he will not someday garner his own pair of specs, what with nearsightedness having stricken every member on both sides of our family, but it's hard to wait when you're two. In the meantime, he's practicing. Every time he sees the little lens-wiping cloth, out it comes from its pouch, and he immediately uses it to dab his eyes. Apparently, that will do in the meantime!
All right, it's your turn. How have your children demonstrated their inherent social cooperation? Does it make you as giddily happy as it makes me? (That last one was kind of a rhetorical question.)