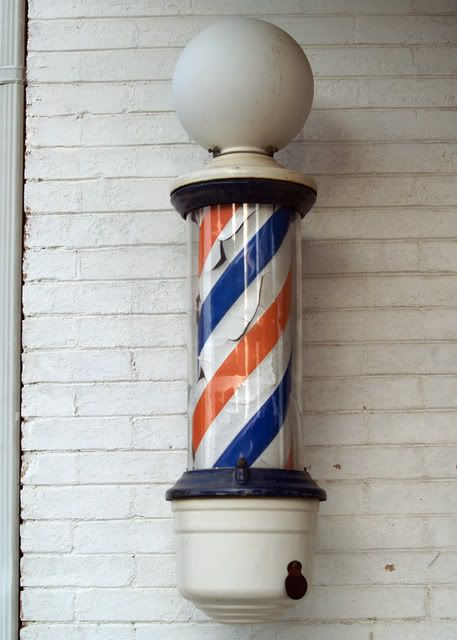 I gave Mikko another haircut today. It had been months. I had more recently trimmed up the straighter hairs up top that were persistently falling in his eyes (a sad consequence of my family's inheritable cowlicks), but I'd left the back to grow wild and ringlety. After awhile, though, I feared the worst: a mullet. Much like my brother's 1980s hockey haircut — undoubtedly chic at the time, and an attraction for all the young ladies, but I didn't want to be That Mother who made her son look like a goofball all for the fear of scissors and an excess of sentimentality.
So, since the shagginess and unmanageability were growing, I went ahead and wielded the shears. And I did it
while
he was nursing! Are you impressed, or what?
You shouldn't be. It's not a very good haircut. Fortunately, curly hair hides a multitude of snipping imperfections.
I sighed, though, to see those bouncy, springy ringlets fall. Every time I cut his hair, I feel the tears at the back of my eyes to look at him, all shorn and still beautiful, but not as adorably shaggy.
This time in particular, I guess because we could see his neck again, and the shape of his face, he looked
older
. Like a little guy, and I love my little baby.
And I don't want to be one of those mothers (on the other hand) who bow to public pressure to make their boys look boyish at all costs. No one ever thinks he's a girl, despite the curls, and I wouldn't care either way. If his hair looked
good
long, or if it poofed in an attractive manner, it would be one thing, but it was looking a little bizarre. But I did have this fear that in cutting it I was making some sort of gender statement that my boy must not have long, curly locks, when really I was open to the idea if it had worked. And now his haircut just looks so
boy
ish, and I had this flash to when he'll be a teen and maybe cutting it just this short, or even shorter, so that just the barest hint of his curls shows through in a vague impression of texture against his scalp.
And then there are all the old wives' tales thrown at me by countless onlookers, not all of whom are old wives, about their sons having curly hair until —
dunh dunh dunh!!!
— they cut it. And then it
grew back straight
. I guess, maybe, sort of, that could possibly be true. I don't really think so. But now I've gone and risked it, haven't I?
Mostly I probably just envy him his springy ringlets and wish I could have them on my head. I love to play with them, like
Ramona Quimby
— boing! boing! — while his little head's cuddled against my chest when he's feeding. I miss them. I hope they grow back soon.