Hop on the freight car with me!
Have you noticed? Blogger has introduced the "
Followers
" widget that allows fellow Blogger users to show their allegiance to a particular blog. Well, you can follow anonymously as well, but that doesn't declare anything out loud and proud.
I've been following blogs left and right lately, because I love that the new posts show up on my Dashboard page as well as automatically being added to my
Google Reader
.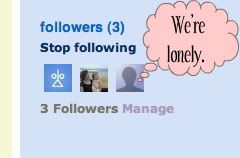 So I decided to add the Follow widget to my own blog, in hopes of attracting some followers of my own. But I'm embarrassed to have so few public followers that I shamelessly added myself just so I could see the number tick from 2 to 3.
Please
follow me
. Please? I'll be your friend. I'll follow you back. I'm not a stalker, though -- honest. But I do read, and I even comment! Because what are blog friends for?
P.S. I thought it was cute when I was visiting a blog that her list of followers had the title "Stop following." (See above picture.) I thought it was quirky humor, like, "Hey, stop following me!" Then I realized it was on every blog that I followed, and I was curious that everyone had stolen the same joke. And then I realized that was Blogger's link for opting out of following. Oh.
P.P.S. Guess who found out you can add text to pictures in Photobucket. Life will never be the same.