Welcome to the July 2013 Carnival of Natural Parenting: Learning About Diversity
This post was written for inclusion in the monthly Carnival of Natural Parenting hosted by Hobo Mama and Code Name: Mama. This month our participants have shared how they teach their children to embrace and respect the variety of people and cultures that surround us. Please read to the end to find a list of links to the other carnival participants.
---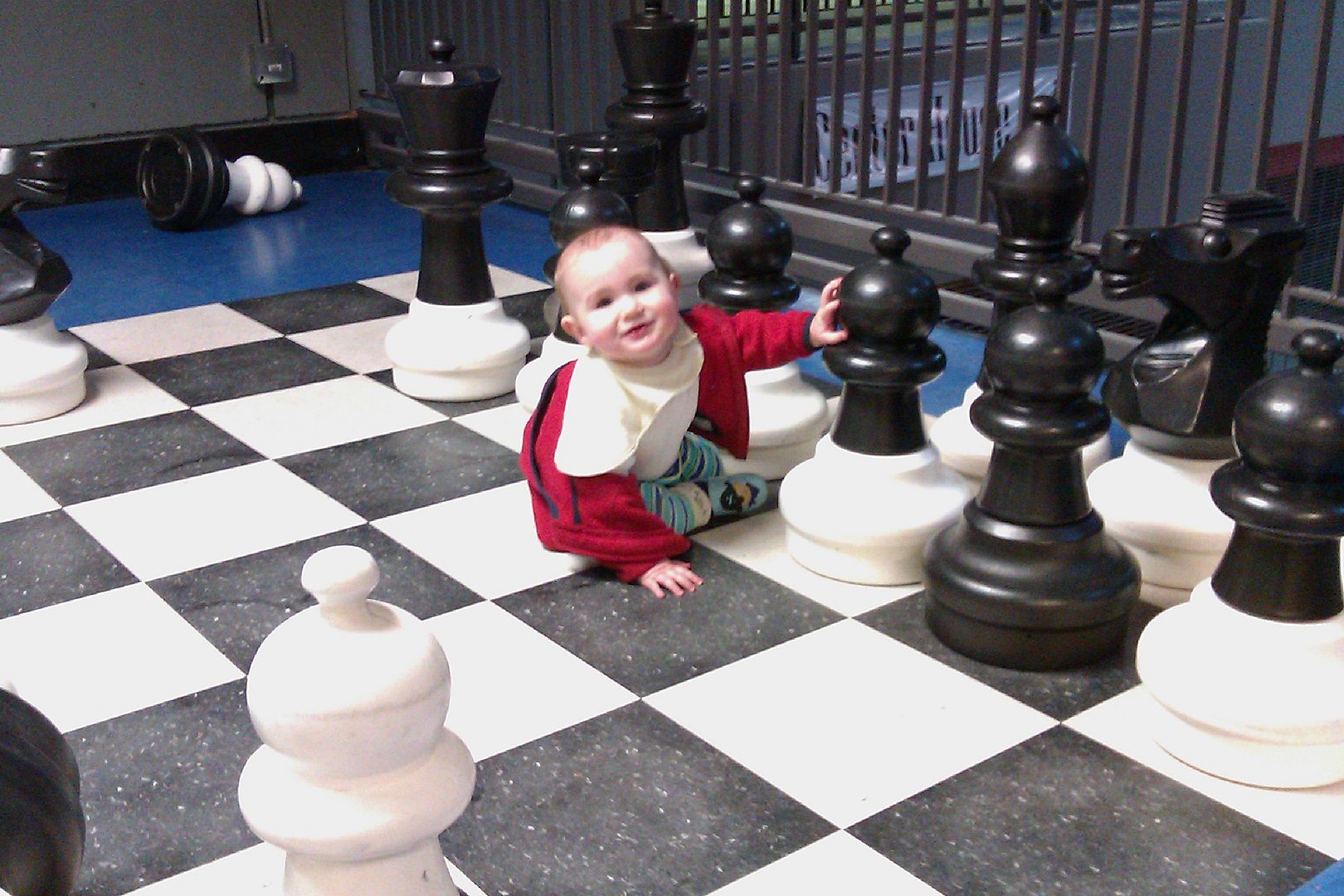 Children tend to view the world in black & white, and they choose sides early.
When I was a kid, I had it decided: The Army was good. (My dad was in the Army.) The Air Force was bad. (This despite the fact that I had friends whose parents were in the Air Force.)
Living in houses was good; apartments were bad.
My favorite color, blue, was good. Red was bad.
My husband has his own stories. His father worked for Ford, so he knew that Chevrolets were evil.
We both were raised religiously, so of course our belief system was the right one in our eyes.
Children tend to view the world in black and white, us vs. them, making groups and categories as they sort the world and valuing the ones they belong to.
This is entirely natural … and then, when you're out in public and your six-year-old says something incredibly racist, loudly (ahem) … you realize it can also be problematic.
How do I, as a parent and an adult, with years of experience and a large array of grays added to my palette, confront the either-or mentality of a little child? How do I teach him there is value even in what we are
not
, and guide him to keep socially offensive opinions to himself when we're around others who might be hurt — and yet not shut down the tough, intricate conversations I
want
him to be comfortable having with me?
If you figure it out, let me know.
On the one hand, I recognize this characteristic for what it is: a natural developmental trait that likely evolved for safety and social purposes. Those who identify strongly with their own group are more likely to be accepted by the group and more likely to make choices in line with what's been established as safe (I think of toddlers' typical food pickiness in this category — if you shy away from what your group doesn't usually eat, you're probably protecting yourself from exposure to various poisons).
So I know the
rah-rah-our-team
mentality has a firm anthropological basis to it, and I don't blame children for having it. I do have problems when adults can't seem to grow out of it, but that's another discussion….
Well, no, I suppose it's part of this one. I believe it's in the parents' job description to help their children grow out of that mentality. We know that that's their norm: compartmentalizing, judging the other. So we as parents have to be the ones intentionally, repeatedly, pointing out that people not like us are still valued, that their lives and cultures and choices are valid. We need to be the ones opening our children's eyes to a larger "team" they can be part of, one that embraces us all.
I wrote about this before in
"Talking about race with (white) kids"
— that I've tried to have ongoing conversations with Mikko about the things that make us all unique. I want him to be aware of his own race, and the privileges associated with it, and comfortable talking with me about the topic. We've done a lot of comparisons to that end about what skin color various people he knows have, including those in our immediate family. I point out that my skin is very light and pinkish, and so is his little brother's. I show him that his skin is more of a yellowish-tan that gets browner in the sun, and so is his father's and aunt's.
But then we have these experiences. Like, we're at a restaurant and I see a family seated beside us with a little boy around Alrik's age. I say to Mikko, "Look — what a cute boy!" And he looks, takes it in, then says, gulp, "He would be — if he didn't have brown skin." And I hope fervently that the adults at the table didn't overhear, that it's not my own six-year-old heaping a new helping of prejudice onto their existence. Ugh. I try to hush him in the restaurant and turn the conversation; later, I bring up the topic, but it seems the moment is lost.
But then a few days later, we're out and a little boy, also with brown skin, also around Alrik's age, comes dancing up to us. He's adorable, and I make funny faces at him, but he has eyes only for Mikko. So I worry. I worry a
lot
. I worry that the next thing out of Mikko's mouth will be something horrific and insulting and that the boy and his nearby parents will overhear. Instead, Mikko plays with him gamely and enjoys the attention. As we're leaving, he tells me after we're out of earshot, "He's such a cute boy, isn't he, Mama? I wish I had brown skin like that."
Which team will he choose today?
And so I learn that the teams are also — inconsistently, illogically, unexpectedly — fluid for children. One day Mikko laments to me that his skin turns browner in the sun and wishes for skin like mine that only burns and freckles (why??), and the next day, he's telling me he wishes his skin were even darker and talking up the benefits of melanin.
I suspect it has something to do with his continuing to navigate his place in the group and figuring out, day by day, which sub-group he wants to identify with. On a day he wants my paler skin, he might be feeling an affinity to me and wanting to show he belongs as my son. On another day, maybe he's feeling more independent, or maybe he realizes he'd be just as happy belonging to a different group. I imagine this sort of back-and-forth is even stronger in children born or adopted into multicultural families — shifting identifications as loyalties are tested and explored.
Or, and here's another point I've realized, preferring skin colors from one day to the next just doesn't have the same baggage for a little (white) kid as it might for adults (or children of color). It seems to be akin to preferring the green cup one day and the blue one the next, with the language coded in six-year-old speak of "I hate blue! … No, I hate green! I love blue!" We wouldn't bristle and get worked up over a color preference like that, but we sometimes ascribe adult and racist motivations to a skin-color (or other) preference that is much more weighted in our society.
That said, his words can
hurt
. I feel awful wondering whether the family of that little boy in the restaurant overheard his careless words. I want him to know there are certain things we can say, and certain things we shouldn't — out of politeness, out of concern for other people's feelings, in order to stay within the bounds of appropriate behavior. And then — I don't want it just to be a veneer of courtesy. I want him to
really, truly think
it's just fine if that boy has brown skin (but with no need to dislike his own). I want him to see the beauty in people who have a different skin color, or language, or culture, or size, or physical ability, or whatever. (Yes, I could tell more cringe-worthy stories…. I almost wrote this post about my kid's questioning of same-sex partnership, or people of size, or people who use wheelchairs, or girls' abilities and preferences…the list goes on. We talk about all these things often, about being accepting and letting everyone be different, and each time it's as if it's the first time we ever have!)
He even, in his childlike way, is on Team Perfection, where he thinks every body should be an ideal he has — so he'll point out our flab, and my pimples — and he even has gotten dismayed talking about the fact that he has his own physical imperfection (due to a surgery he had as an infant). As if he's failed himself and kicked himself off his own team! And I want him to let it go, to accept that we're all so varied and different and
not
perfect, and lovely anyway, and that he should think we're all just fine the way we are.
And, yet: I can't
make
anyone think anything, can I? And I fear that hissing at him when he's crossed the line in public, "Mikko…shut your piehole!" will not make him any more likely to be tolerant so much as certain that he's not allowed to express his opinions …
to me
.
So what would you do? (Beyond the obvious of continuing to talk it all out.) How do you react in a public environment when your child says something inappropriate? How do you react afterwards, in private? How do you teach and model what sort of language is polite and acceptable and what would not be? Guidance graciously accepted!
---

Visit
Hobo Mama
and
Code Name: Mama
to find out how you can participate in the next Carnival of Natural Parenting!
Please take time to read the submissions by the other carnival participants:
(This list will be updated by afternoon July 9 with all the carnival links.)