Welcome to the June Carnival of Natural Parenting: Outdoor fun
This post was written for inclusion in the monthly Carnival of Natural Parenting hosted by Hobo Mama and Code Name: Mama. This month our participants have shared their stories and tips for playing outside with kids. Please read to the end to find a list of links to the other carnival participants.
---
A home by the sea
I always dreamed of living by the sea. It was one of those dreams that
I assumed would never come true
, or only if a number of other unreasonable dreams somehow did — like I won the lottery, or traveled back in time, or moved to England. Or all three, somehow.
When Sam and I moved from landlocked Indiana to Seattle, we were confronted with
water everywhere
. Lakes and bridges, rain from the sky, temptingly adorable houseboats, even the reservoir we passed every day, and above all, the lovely and calm Puget Sound turning into Elliott Bay downtown. We took ferries across the Sound like pleasure cruises. We loved to cross Deception Pass onto Whidbey Island and glimpse the actual Pacific Ocean through the break in the distant Olympic Peninsula and dream, someday, of retiring on the island in a little cottage on the water.
When our apartment up north flooded (more water! too much water!), we had to discover a new place to live, and fast. We could have gone anywhere, but we took a gamble and headed down to an area we'd visited only twice before: Alki Beach. Was it even possible to find an affordable rental in
a neighborhood that had the word "Beach" in the name
?
We were astounded: It was! We ended up paying more than we'd paid for our previous place with no water view, but we were able to find a lovely and vintage one-bedroom and we moved in when I was four months pregnant with Mikko.
I labored on that beach, walking along the paved path along the street, deserted on a cool and cloudy June morning. Sam and I walked down to the sand and sat on a log and
watched the waves swell like the contractions
. I obeyed our midwives' directives to turn that stubborn baby and did lunges on the concrete steps, holding on to the rail and Sam. We slow danced our way back to the house, pausing on benches to wait out the surges and drink in the peace of sand, saltwater, driftwood, and occasional encouraging strangers.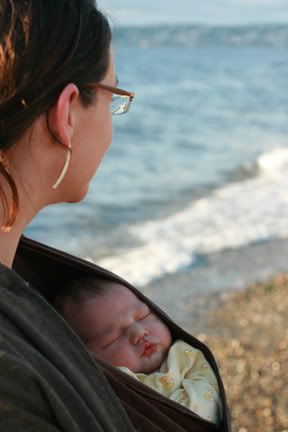 Our first walks with Mikko were along the beach, down to the water in various baby carriers.
His first jaunts on the water
happened within weeks of his birth: ferries and sailboat and tour boats.
Last summer, a confluence of events — our landlady's irksomeness, an unexpected financial gift, news of available assistance, and the depressed real estate prices — led us to consider buying our first house. Sam and I talked it over, and despite the apparent inanity of this decision, determined our main criterion:
It must be within walking distance of our beach
.
We had to decline real estate agents who told us we were being foolish, that we would find much more interior and exterior space further inland. We had to turn down one in particular who implied
we were beach bums
akin to the skeezy surfer in
Gidget
. (Anyone ever seen that movie? Hoo boy.) We're not the type of people who lie on blankets all summer perfecting our tan; I'm too Irish and Scandinavian to bother trying. We've never even swum in the water here — too dang cold on 363 days of the year without a wet suit. We just knew:
(1)
Our son needed to go outside.
(2)
We are lazy.
Therefore:
(3)
If we do not live within walking distance of a pleasant outdoor space, we will never take him.
We are just not the sort of people who
drive
to a nice outdoor space. No matter where I've lived,
I've walked to whatever was nearest me
(in Indiana, my own apartment complex was all I had; in northern Seattle, it was a gorgeous ravine in a nearby park). If we could live within walking distance of the beach, we knew we would use it daily, particularly as Mikko grew and demanded the full share of outdoor time allotted to each fresh-air-craving youngster.
I don't mind not having a yard, because I've never been one to take full advantage of hanging out in a yard, and
mamamilkers
is being kind enough to let me
use her gardening space
this year, which was the thing I most craved out of a personal patch of land.
So we lucked into a small condo half a block from the beach and settled in to enjoy our public-private stretch of surf, maintained for us by the city of Seattle as a park so we have
no lawn to mow or leaves to rake
and can just enjoy.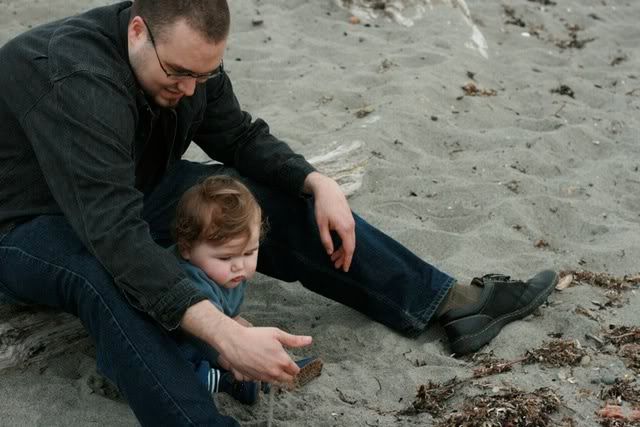 We have
a huge sandbox all to ourselves on most days
, certainly throughout most of the winter, when it's still usually mild enough to go out for a time each day. We don't need our own grass to sit on, since we have communal picnic areas. We don't need our own barbecue, since there are plenty of grills scattered about. We never use our indoor fireplace (how do you light that thing, anyway?), but the beach boasts a half dozen fire pits for cheerful flame-lit gatherings on summer nights, complete with marshmallows to roast on sticks.
We have our home on (OK, near) the beach.
I'm living my dream
.
The best part is,
Mikko never needs to think of it as a dream
.
He'll grow up thinking
it's just normal to live in a place where seagulls wake you
through the skylights.
Where you walk out the door and
cross a street to an expanse of sand
.
Where low tide means
exploring for octopuses and crabs and starfish
.
Where all his trucks have
sand crusting the wheels
and all his pants cuffs have to be unrolled carefully outside and yet still — still — our couch and sheets are always collecting gritty reminders.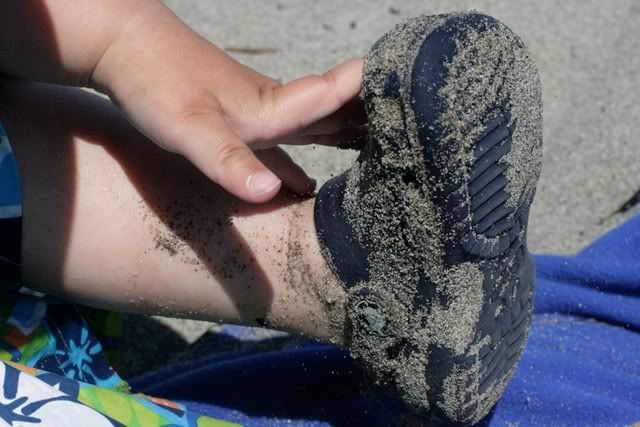 Where summer shoe attire is chosen for its ability to
walk straight into the Sound
without damage either to shoes or tootsies.
Where we learn the tracks everyone makes in the sand:
big mama feet and little baby feet
, illicit dog feet, tiny three-toed bird prints and webbed flat seagull prints.
Where we can wave to the distant Space Needle and passing cruise ships and remind ourselves that, even in urban settings,
we are natural creatures who need natural surroundings
.
Where, no matter what the weather,
we head out nearly every day
to listen to the waves, to walk along the ridge that overlooks the sandy slope down to the water, to see the sun set pink behind Vashon Island.
You don't have to be creative to find things to do on the beach. Mikko immediately
plops down and begins digging
with his hands or any nearby stick. We tend to keep a handful of sand toys — a shovel, a mold, a small truck — in our bag on walks. But even if we've forgotten them, the beach has shells to find and branches to make into impromptu walking canes. You can balance driftwood on top of other logs to make seesaws and obstacle courses. You can marvel at the different colors and textures of seaweed washed ashore. You can toss stones into the waves. You can watch the other kids playing and borrow their toys for a bit (with or without their permission, our bold little one has found…). There's usually someone out with a kite that you can lie back and watch fly.
If we had to drive to the beach, there's no way we would have gotten to know it in so many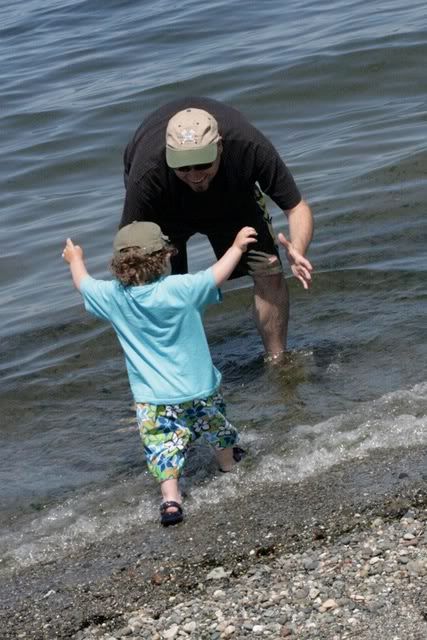 moods, in every season, through high tides and low. We've seen the water gray and blue and black and pink. We've walked into the waves and run away from them; we've splashed through shallow tide pools warmed by the sun and shivered in arctic currents. We've seen the sand packed with volleyball players and pirates and sun worshipers and ice cream hawkers, and the beach entirely empty except for us.
I've never embraced a small portion of land the way I've rooted here
. I hope Mikko will take his personal beach entirely for granted, even as he continues to enjoy it every day.
Even knowing that I write this from a place of privilege and choices and options, I urge you to
consider where you live in terms of what is a priority for you
. It might not be outdoor space nearby, but presumably you have something that's just as important to you: pursuing a dream job, moving near (or away from!) family, living overseas, living off the grid or
in an RV
or on a houseboat. Don't accept that your dream can't come true until you really pursue it and see if you can't come up with something that works for you and your family. Maybe the time isn't now, in which case you can tuck it away until the future opens up the answer.
Wherever you end up, I hope there is something natural around to inspire your soul —
within walking distance
.
How far do you travel to get to your preferred outdoor space? How often do you get outside with your kids?
---

Visit Hobo Mama and Code Name: Mama to find out how you can participate in the next Carnival of Natural Parenting!
Please take time to read the submissions by the other carnival participants: