This is what I've been doing instead of writing. Look around you:
I changed the wallpaper!
To refresh your memory, here's what things used to look like: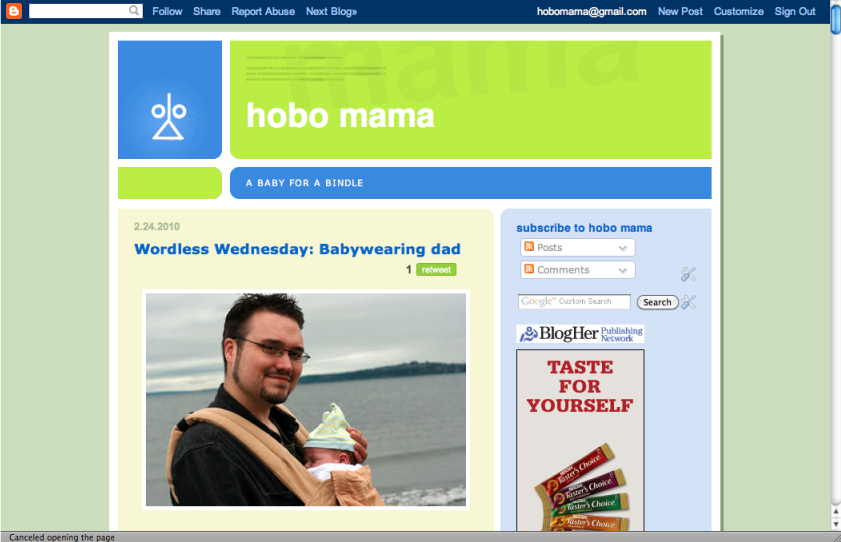 You don't have to tell me it used to look awful, because
I really did like my cheerful vintage look
.
(You know, like when you get a haircut and people go, "Oh, my gosh, that's SO MUCH better," and you want to kick them?)
But...isn't it beautiful now?
Sam worked so hard to get this together for me.
Thank you, sweets! (He's one of the cuties in the screen shot there.)
We took the header picture several months ago in preparation.
That's Mikko in the ERGO on my back.
For safety fanatics out there, those tracks aren't in use. They seriously run into a building several feet back from where we were shooting. I'm not such a hardcore model that I like to endanger my son! He was quite irritated by the time the shoot was over, though, quashing
my dreams of making him into a child star
. Ha!
As all of you poke around and enjoy the site in the next days and weeks, do
let me know if things work for you
or not so much. I tried to copy over all the functions of the old site, but you never know!
The other thing I've been working hard on is the
March Carnival of Natural Parenting — posting TOMORROW!
Check back for lots of wonderful articles on old-school green living. You'll get so many good ideas — I guarantee it.*
*Unless you are (a) already a supremely evolved eco-warrior
or (b) unable to read. I just hope the reason you're unable
to read isn't because there's a glitch in my site redesign!