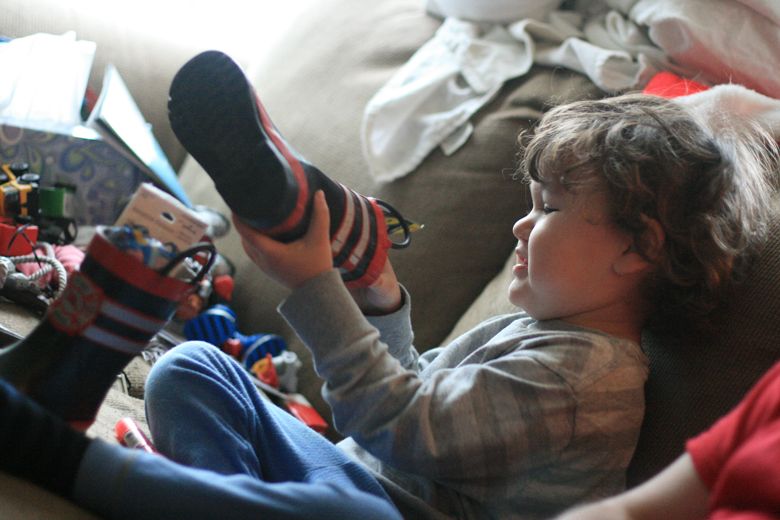 Saturday is St. Nicholas' Day, so
Momma Jorje published my post on the German celebration of Nikolaustag
to remind us all to
put out our boots tonight
!
Every year, Hobo Mama posts about her family's St Nicholas Day celebations after the fact. I kept suggesting it would be better if she could remind us all beforehand so we could join in! Last year she did it, just for me!! We didn't get much notice, but we got a little. This year, I'm republishing her post (with permission) as a guest post and with more notice!

So: Let this be your reminder! Put your boots out December 5th and Saint Nicholas might just stop by to tuck some shiny little goodies inside!

(Unless you've been naughty, of course. Then all bets are off.)



---


Since we speak some German at home, we like to learn about the culture as well. That's why we celebrate Nikolaustag, or St. Nicholas Day, each year.

Because the feast day of Saint Nicholas is December 6, empty boots (Nikolausstiefel) generally go outside the door the night of December 5, the eve of Nikolaustag (Nikolausabend).
Read the rest at Momma Jorje for ideas of how to celebrate!
---
I also have a lovely bloggy friend who posted a list of her favorite posts to give my blog some love during my babymoon.
Crunchy Con Mommy posted "Why I love Hobo Mama and you should too!"
— one of the sweetest baby gifts I received! It went live
on
Karsten's birthday
. That's good timing right there!
She discusses her secretly curly hair, her love of side-lying nursing, and her sharing of my mei tai tutorial.
Click on over to read her take and discover some posts you might like as well!