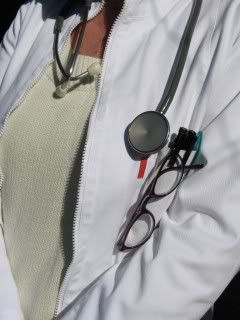 Ok, I'm sad now.
I saw a link to the
new survey of pediatricians on their breastfeeding attitudes
in 2004 as compared with a 1995 study, as reported in
Pediatrics & Adolescent Medicine
.
The results show that doctors are now less likely "to believe that the benefits of breastfeeding outweigh the difficulties or inconvenience," fewer had confidence that almost all women would be able to breastfeed, and they found more reasons to recommend against the practice.
In good news, the 2004 pediatricians were more likely "to recommend exclusive breastfeeding ... and follow supportive hospital policies."
One factor that helped with breastfeeding promotion was personal experience of breastfeeding on the part of the pediatrician. Apparently it's not enough just to be taught in medical school that breastfeeding's good for babies and mamas -- you have to see it in action to believe it.
Well, fine. But how are our future physicians going to see it in action if our current ones discourage mothers from doing it?
File this under
grrr...
I thought things were supposed to be getting better.
Photo courtesy of Sanja Gjenero on stock.xchng