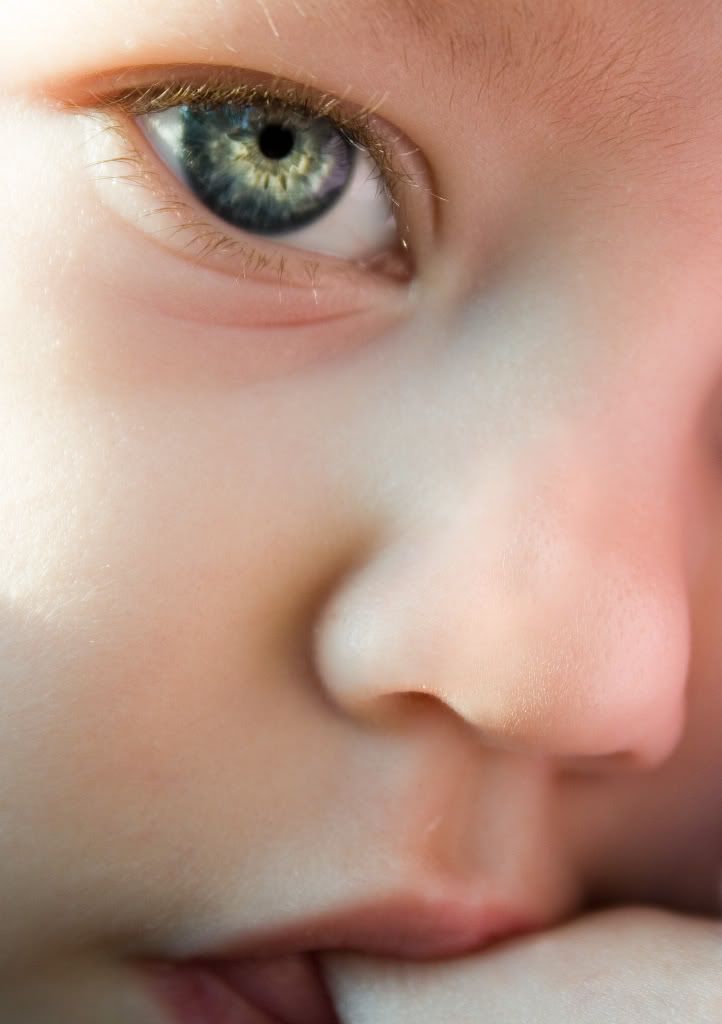 I was reminded of those breastfeeding covers that are all the rage among the newborn-toting set, when an email about milk supply in my Gmail trigged a Google ad along the side for "secret nursing."
I've
written before
about my bad experience with any sort of "discreet" blanketing and my reluctance to make a big deal out of covering up what should be considered a normal act of feeding an infant.
But I reexamined the issue in light of the fact that I am now nursing a toddler. A full-blown, walking, talking (sorta kinda) toddler. I expect more and more people will find what I'm doing strange, and the ad made me picture trying to be discreet with my 18-month-old.
Imagine it in your head for a minute. It's a funny picture, isn't it? Long, gangly legs kicking around outside the edges of a blanket, a writhing figure underneath. Mikko refuses to let me put blankets on his
legs
. I'm supposing if I tried to put one over his head, there would be two possible reactions: If he's in a good mood, he would think it was a fun game of peekaboo (with my breast being the
boo!
); if he's in a bad mood, say, if he were hungry, well...it wouldn't be pretty. Either way, it wouldn't be useful.
That made me think that the trend for breastfeeding covers assumes that only newborns are going to nurse. Or, perhaps, that only newborns are going to nurse out in public. I have heard that many mothers of toddlers start limiting nummies to home, a practice I've considered but not implemented as yet. I can't take turning down Mikko's legitimate requests for food and comfort just because we're out and about, and just because someone might be offended. I know I always appreciate seeing a breastfeeding toddler, because it means I'm not alone!
I know I have become less discreet as Mikko's grown -- but I also care even less. I used to be able to position him just so and settle in for a long feed, but I've had to change my process because his nursing style has changed so much. He now flits from side to side, having a couple quick gulps back and forth, and then he's off to something else that interests him, before returning a few minutes later for another snack. If I had to arrange a blanket or special shawl every time that happened, I'd scream. As it is, I can barely take refastening my nursing bra in between sessions, and I've adopted the easier habit of just wrenching down my entire neckline rather than trying to deal with layers of shirts. Only if I'm in the presence of someone new or uneasy do I take the time to be more covered. But, hey, I figure Mikko has a big enough head to cover most of it anyway.
Keep in mind that Mikko still nurses frequently and all day and night like a newborn, unlike other toddlers I've heard tell of who nurse, for example, upon waking and before bed. I expect it's because of his large size but his continuing aversion to going whole hog with solid foods.
Oh, and his latest adorableness that might make others squirm: He has taken to pointing out "noses" everywhere we go. He finds his own nose; he finds his dad's; he finds mine; he finds his bear's; he finds the kitty's (and doesn't she love that!). Well, every time he feeds now, he touches a nipple and says "nose" to me, until I echo it back to him and, satisfied, he can start to eat. I thought about giving it the proper name, but then I thought about him saying it over and over while other people are around, and I chickened out. I'm settling on trying to modify it to "nummy nose." Wussy, I know. Hopefully he'll learn the correct term before he uses that one on any future amour.
What are other people's experiences and comfort levels? What do you think of nursing covers in general, and for toddlers in particular? Should I make more of an effort to hide my skin, or say "deal with it" to any glares (which, I might add, I have never yet received)? Is there any age at which it's too awkward to nurse a child in public, and at what age could they understand that? I know it's not 18 months for my guy -- 18 years, perhaps?
And if any of you are breastfeeding toddlers indiscreetly in public, please bring your sweet self near me so we can match.
Here are posts with comments that offer some other voices on the issue from blogs I read and blogs they linked to on nursing toddlers. Feel free to add any other links in the comments here.
Beautiful nursling photo courtesy of Marek Bernat on stock.xchng