I'm babymooning it, so any posts I write will be just what's on my sleep-deprived mind. Hope that's good for you.
Mikko, Sam, & I have tough skin. I've never noticed a difference between using our old, mainstream toiletries, detergents, and cleaning products, and the newer, gentler, greener versions I've gradually switched us to. Mikko had a diaper rash maybe once in his life. Our skin is pretty impervious.
Alrik, on the other hand, came into contact with our world and immediately broke out in hives.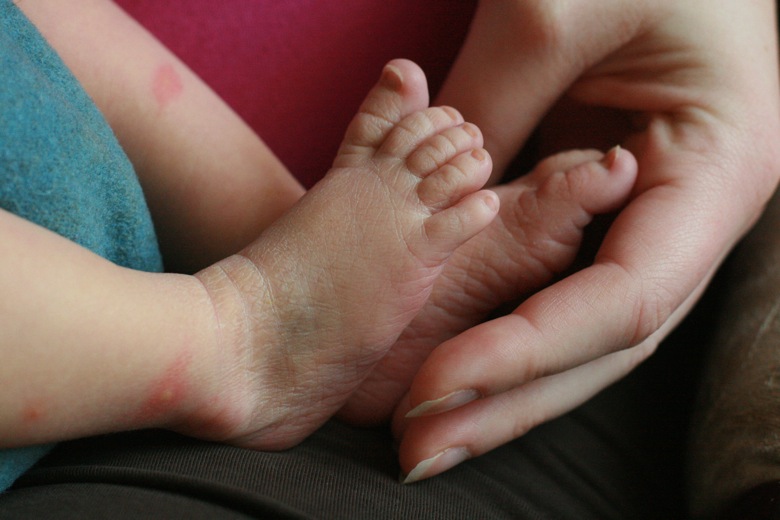 This is what poor Alrik's pimply spots look like. They are definitely not your standard baby acne.
Our midwife noted them on her two-day visit and guilt-tripped us about them, despite anything we told her to the contrary,
as is her wont
. I told her we use eco-friendly detergent and wool dryer balls — and that, though they are scented, they are scented with essential oils, not the murky chemical concoction known as "fragrance."
She pointed out that
no odor
means something is good, but that somehow we've tricked ourselves into believing smelling strongly of something is a positive. I agreed with her. I used to like smelling like something, but I've gotten out of the habit. I'm fine with simply
not
smelling now.
As she continued to grill us about whether we really had pre-washed all our linens and baby clothes and diapers (
I had
), my mind flitted around and settled on the likely culprit: my sister-in-law.
Natalie smells. In a good way, or let's call it the culturally acceptable way, but she does. She favors lotions and sprays from Bath & Body Works, a company not known for its scent subtlety.
I told the midwife this, and Sam mocked me. "Sure, blame it on Natalie," he said. But I persisted. Whenever Mikko goes out with her, he always comes back smelling like her. It's an odd phenomenon that strikes me every time. He comes home; I give him a hug and lean into his hair — and it smells. It's not like she gives him a bath or anything, so clearly she wears enough scent that it always ends up transferring.
Well, I didn't have proof, and Natalie kept coming over, as did other visitors. There was no way to suss out who was the the cause of Alrik's continuing blisters.
But then we had the long weekend and a break from the stream. After several Natalie-free days, she came over to snuggle him tonight for an hour and a half — and he ended up with several welts and smelling like an eighteenth-century French viscount who believes bathing is for the lower classes who can't afford good perfume.
J'accuse!
So here's my dilemma: How do I protect Alrik from the chemical assault? Or can I? Or should I?
I've already brought it up with Natalie, in a roundabout fashion. Earlier, I had mentioned Alrik's sensitivity, pointed to the hives, and discussed what detergents we both used. Natalie swore hers was eco-friendly (though I don't know if it's fragrance-free) and mentioned that she wants wool dryer balls, too, which implies she's likely using fabric softener right now. But she didn't volunteer to switch immediately to alternatives, or to stop using her lotions and potions, or even to
wash her hands
before she touches our baby.
And it strikes me that, with Natalie living in close proximity, I could get Sam to lay down the law with her and mention that her time with Alrik needs to be chemical-light. But when our families and friends visit? I can't imagine forcing them to wear smocks or insisting we wash all their clothes in our own detergent the first day they stay with us, or something similarly off-putting.
I can't get Alrik's take yet on how much the hives bother him. He barely understands he
has
hands, much less that they could do something useful like scratching himself, so I don't know if they're itchy or painful. They look pretty ugly to me, but they go away within a couple days and don't fester. Is it something where his skin will become accustomed to the exposure, given some time? (Is that even a good thing?)
So I put it to you: What would you do if your baby is allergic to your family and friends? Or what do you do, if you or yours have a similar affliction?